Wednesday, September 1, 2010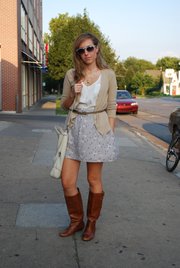 Age: 22
Sign: Aries-Taurus cusp.
Occupation: Fifth year senior at KU and currently unemployed (help).
Hometown: Kansas City, Mo.
Time in Lawrence: One year.
What were you doing when you were scouted? Contemplating sampling the frozen yogurt at 3 Spoons for the third day in a row.
How would you describe your style? My roommate describes it as "conservative/ erotic." I always try to keep in line with the idea of simplicity and reminding myself to stick to more muted tones because I don't like how obvious, bright-colored clothing makes me feel.
What are your current favorite fashion trends? Mixing patterns and neutral colors. I'm also enticed by the stylish sock trend and always a sucker for anything equestrian.
What are your least favorite fashion trends? Really evident branding like Vera Bradley, and why haven't logo shirts died yet?
What would you like to see more of in Lawrence? I wish the holiday street lights on Mass. were turned on year-round. Also, a Tropical Liqueurs wouldn't hurt.
What would you like to see less of in Lawrence? Construction — I would love to use I-70 again.
Do you have any fashion influences? I think I keep a mental lookbook of who/ what I see around me and draw from that later on. I enjoy the Internet's abundance of style blogs, like The Sartorialist, which allows anyone, anywhere to be influenced by the fashion choices of everyday people.
Do you have any piercings/tattoos? Pierced ears and a recently revived pierced septum. I'm too indecisive to get a tattoo.
People say I look like: Fiona Apple, Scarlett Johansson and Daria, but I think that's more in terms of my slightly pessimistic demeanor.
Tell us a secret: I'm a firm believer in wearing black and brown together.
More like this story on Lawrence.com