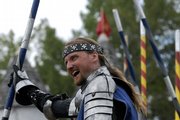 MORE INFO
For more information, call (913) 721-2110 or e-mail tickets@kcrenfest...
The 34th annual Kansas City Renaissance Festival opens its gates Saturday in Bonner Springs. And whether you're a Ren Fest rookie or regular, these insider tips from local festival participants will make your 16th-century Canterbury experience the merriest ever.
Carrie Shoptaw is the general manager of the Ren Fest and a graduate student at KU in marketing communications. After 13 years with the event, she's noticed a few misconceptions among the public.
"There are things guests should know that they have backwards, sometimes," Shoptaw says. "For instance, people wait until our last three weekends to come because they think the first three or four weekends will be mobbed. It's quite the opposite. If they know how the show grows — it starts at 7,000 a day and ends up around 22,000 a day."
"If you're in the know, you come to the first four weekends because there are no food lines, and you get into every show. You are front and center on everything. But, people wait because they think the crowds will be smaller and they want to see the leaves turn color, which is understandable."
Shoptaw adds that earlybirds get savings on the price of admission, which is normally $18.95 for adults and $9.95 for children.
"There are great specials on the first three weekends," she says. "It's really 2 for 1, if you bring 5 cans of food for the Harvesters Network. It's buy-one-get-one-free on any ticket we have. Those are things to pay attention to. There's always a way to get a discount here."
Debra Jennings from Lawrence, a 31-year festival vendor known as Braider Deb, advises people to be prepared for any weather eventuality.
"I always tell people to bring a couple bottles of frozen water and a trash bag, just in case it rains," Jennings says. "The hay bales and the benches get wet, and you can also use (the bag) as a raincoat."
Jennings operates two hair-braiding booths, called "Braidin' Maidens," which stay busy throughout the seven-weekend festival.
"If you want to have your hair braided, you should come to our booth the minute you get in the gate and sign up, because we do run a wait," she says.
Braiding takes an average of 15-20 minutes, depending on the complexity of the style and hair length.
"We charge by the braid," Jenning says. "The average price is $25, but they start at $18 and go up. If you can sit on your hair, we charge a little extra."
Kent Deeds, Lawrence, is a 10-year veteran performer who will be strumming his guitar this year on the Pope Loy stage. He respectfully disagrees with the "earlybird" strategy, pointing out that the festival hits its mirthful stride in the later weekends.
"As the fair grows larger, the energy really increases," Deeds says. "If anyone wants to experience the time dislocation the festival offers — and it's the only thing I have ever experienced that's made me feel as though I've teleported through time — it builds as the fair goes on. As fall sets in and the temperatures being to change, it's far more comfortable."
No matter what weekend you choose to visit, Deeds recommends wearing appropriate shoes for the woodsy terrain and take the merrymaking easy.
"Remain hydrated, number one, and pace yourself," he says.
Shoptaw advises people to remember they will be in the great outdoors all day, and supply backpacks accordingly.
"It's always wise to bring bug spray and sunscreen. It is a shaded location, but a lot of the stages have sunny seating," she says. "Bring your Benadryl — and Epi sticks, if you're a bee person — because even though we have five to six medics on staff, they're not allowed to distribute even Advil. They've got all the topicals, but if it's something you have to swallow, bring your pill pack."
Ren Fest experts say there's no need for shy fairgoers to feel intimidated by the Royal Court or other boisterous characters roaming the grounds in period costumes. Audience participation is strictly optional in Canterbury.

"It's likely that people will be greeted when they go there," Deeds says, "but it's unlikely that they'll be pulled into some sort of street scene."
Jennings says, "I think the entertainers are pros at recognizing people who absolutely don't want to be involved. I've seen hundreds of shows out there, and it always seems they pick out people they know will enjoy it, and want to participate."
"You don't really have to do anything. You can just sit there and watch people. Have a nice day in the forest." Shoptaw says.
But, there's one thing guests must do to get the true Renn Fest experience, according to Shoptaw: Chow down on a turkey leg. Ninety-thousand pounds of 20-ounce legs are expected be consumed this year atfestival, each one weighing in at a whopping 1,200 calories.
"The turkey leg is the best-selling food item, bar none," Shoptaw says. "The only thing that sells better than turkey legs is beer. But, we don't count calories here. It's not allowed."
Ren Fest FAQs
Q: What are the dates and hours of the Festival?
A: The Festival is open weekends, Columbus Day and Labor Day from Sept. 4 to Oct. 17. Festival hours are rain or shine, 10 a.m.-7 p.m.
Q: What does the admission price include?
A: Free parking, all entertainment shows, including the tournament jousting and special events. You may choose to purchase arts and crafts items, food or beverage, or enjoy some rides and games (costs vary).
Q: Are pets allowed at the festival?
A: Yes, dogs and cats are allowed at the festival. Please see pet rules and registration information on the website.
Q: What time are the jousts?
A: Jousts are held four times daily at 11 a.m., 1 p.m., 3 p.m. and 5 p.m.
Q: What time is the daily parade?
A: 12:30 p.m.
Q: Is there an ATM machine?
A: Yes, there are several ATM machines onsite.
Q: Is the festival wheelchair-accessible?
A: The festival is held in a natural, outdoor setting. Wheelchairs and motorized wheelchairs are allowed. There is disabled accessible parking, and disabled accessible portable toilets.
Q: Are wheelchairs and strollers available for rent?
A: There are no wheelchairs or strollers for rent, but there are motorized scooters for rent. Call the festival office for more information and to reserve one.
Q: Is the festival open during inclement weather?
A: It is open rain or shine. They do not offer refunds in the event of inclement weather.
Q: If you wear a costume, can you get in free?
A: No, but there are various costume contests during special events that may have free admission as a prize.
Q: If you leave the festival can you get back in?
A: As long as you have your hand stamped, you are allowed back in to the festival for the day.
Q: Is there on-site camping?
A: There is no camping or overnight parking on the festival grounds.
For more information, call (913) 721-2110 or e-mail tickets@kcrenfest.com.