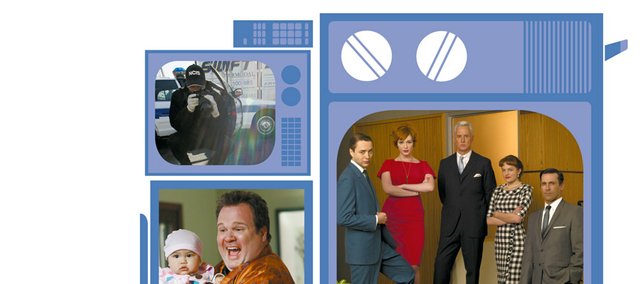 Sunday, September 5, 2010
Last Sunday, the Academy of Television Arts and Sciences bestowed dozens of Emmy Awards on the best that primetime programming network and cable had to offer.
Whether their favorite shows captured a gold statue or went unheralded, local residents are steadfastly devoted to their must-see TV of choice.
"Anyone who knows me knows not to call between 7 and 8 on Tuesday night," says Sue McDaniel, Lawrence. "I mean, just don't. 'Cause I won't answer the phone."
During that hour, like clockwork, Sue is glued to "NCIS" or, for the uninitiated, "Naval Criminal Investigative Service," an hourlong drama on CBS.
What's the appeal, you ask?
McDaniel answers that question like the "NCIS" fan club president she wishes she could be:
"Mark Harmon, Michael Weatherly, Pauley Perrette. Remember Illya Kuryakin ("The Man from U.N.C.L.E.")? He's Duckie. Weatherly and Harmon are so hot. And Pauley Perrette is the most out-there woman you've ever seen in your life. She wears vampire stuff and sleeps in a coffin. Then, there's Sean Murray, who's the IT kind of guy. And, oh my gosh, Cote De Pablo. She's a special agent from Israel."
Though "NCIS" has been airing since 2003, McDaniel and her husband, Dierk, started watching only a year ago. Intrigued, they spent last summer catching up on past seasons on DVD. Now, they're hooked.
"There's humor in the show, but the drama is all real, too. These people all click. It's just incredible. It's a 'CSI' kind of show with a touch of military to it," McDaniel says.
She admits visiting the show's fan page on Facebook and seriously considered buying a 'NCIS' hat and shirt for Dierk's recent birthday.
"In fact, I even thought about going to Washington, D.C., on vacation so we could see NCIS headquarters," she says. "We are totally devoted."
•••
History buff Jon Josserand of Lawrence has been mad about "Mad Men" (9 p.m. Sundays, AMC) since the first episode aired in 2007.
"I saw the pilot and was just struck by the incredible details spent with the costuming and set pieces," he says. "Some people like music; I like good retro design. And they are scrupulous — the telephones, the dictaphones. I was born in '54 and have a fascination for the '40s and '50s. And, of course, the story hooks you."
The one-hour Emmy-winning drama takes place in mid-'60s Manhattan and follows the business and personal lives of a group of advertising executives.
"So much of modern America is based on the influence that marketing gives. It really pulls back the curtain a bit," Josserand says.
Ironically, while he relishes the show's nostalgic look and historic framing, Josserand records the Sunday night show on a thoroughly modern device.
"Typically, I watch it on Tivo," he says, "so I can skip all that marketing."
•••
Barbara Woods says it was her son, a college biology teacher, who turned her on to the geek humor of "Big Bang Theory" (CBS).
"That's my number one," she says. "I love it because it makes me laugh and it's kind of intellectual humor, too. It's more substantial than slapstick. And Jim Parsons (Emmy winner, Best Actor in a Comedy) really has developed that character."
"There are these three guys and they all teach physics at the college, but they're young. And there's a girl from Nebraska, Penny, who lives across from them. They just go through all sorts of things with the science and relationships, and it's all very funny. The writers on that show are incredibly talented."
Woods says she can't wait for the series to return Sept. 23 when she'll have a standing appointment with the TV, Thursday nights at 7.
"I don't think I've ever missed one," Woods says. "It's a must-see. I make a date to watch it regularly."
•••
John Van Nice, Lawrence, says the advent of the DVR, On Demand and "commercial skipping" has changed his TV viewing habits, but his allegiance still lies with HBO dramas.

"I have been somewhat of a HBO series junkie over the years," Van Nice says.
"'The Sopranos' and 'Six Feet Under' were on my must-see list for all the years they were on. More recently, 'Big Love' is still anticipated weekly during its season. They all share a great ensemble cast and wonderful writing that keeps you wanting to come back for more. Of course, I became hooked on both 'Band of Brothers' and 'The Pacific,' which gave me a glimpse into my parents' generation's life during the World War II years."
•••
Lawrence resident John Connelly says he and his partner, Steve Maceli, have a long list of TV favorites, including "Burn Notice" (USA), "In Plain Sight" (USA), "Dr. Who" (BBC America), "Torchwood" (BBC America), "Being Human" (BBC America) and "Tosh.0" (Comedy Central).
"The BBC shows are for our inner nerd," Connelly says. "They're awesome. And we love the USA shows because they have alternating seasons where one show ends and another begins."
But there are two shows they consider "can't miss."
"'Glee' (premiering Sept. 21, 7 p.m. on FOX) and 'Modern Family' (Sept. 22, 8 p.m., ABC) are, of course, must-sees for any self-respecting gay man," Connelly says with a laugh.
Connelly says the Emmy-winning comedy series "Modern Family" never fails to disappoint.
"I read about it when it started and said, 'OK, we'll try this.' And it was pretty darn funny. It's hysterical."
"It's appointment TV for us, 'appointment' meaning we have a DVR and a 'series record' set up for every show on our list," Connelly says. "We have a big projection screen in the basement that we go to. We try to watch them — especially 'Glee' and 'Modern Family' — as they come up."
•••
Curtis Marsh, Lawrence, says his favorite sitcom continues to be "The Office," and he enjoys watching "Dual Survivor," "Dirty Jobs" (both on Discovery) and "Bert the Conqueror" (Travel), on occasion.
But, in true blue form, he claims there is only one kind of programming he considers "must-see":
"The only TV that I refuse to miss is KU sports."
More like this story on Lawrence.com