Monday, September 6, 2010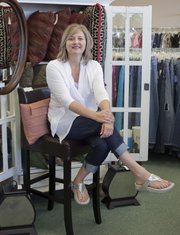 Susan Cook loves to get decked out in designer clothes, accessories and footwear, and she takes delight in helping others do the same. Best of all, she doesn't have to pay a fortune for the privilege. Cook owns Lasting Impressions, a consignment store at 711 W. 23rd St.
"I love seeing our customers transformed and their surprised and delighted looks when they try on designer clothes they normally couldn't afford to buy new," she says. "It's also really fun to see people come in to choose dresses and accessories for special celebrations and formals."
Cook, born in Gardner in 1962, moved to Lawrence in 1964. Her father was in car sales and her mother a homemaker until they opened an antique store booth at Quantrill's Flea Market (on New Hampshire Street) when Cook was at South Junior High School.
"It quickly grew into four booths, as big as any store," she says. "I loved helping out there and enjoyed retail."
When she graduated from Lawrence High School, Cook attended Bill Nye's Floral School (downtown Lawrence.)
"I really didn't make too much of my training because I married when I turned 18," she says. "I did make all the bouquets and floral arrangements for my wedding."
When her two children came along, Cook looked for ways to supplement the family budget. She worked in day care, helped her parents in their antiques business and searched for bargains.
"I bought all my children's clothes secondhand because new ones were so expensive," Cook says. "I'd line up at Second Chance (downtown), a secondhand children's clothing store, on the days the owner put out the newly arrived batches of clothes. I made great savings and stretched our budget."
When her second child started kindergarten, Cook accepted a job at Lasting Impressions. She became manager in 1997 and in 2000 purchased the store from Carol Broman, who'd opened the store in 1989.
"It was scary and a huge risk to take on the responsibilities of a business with all the administration, payroll, taxes and everything," she says. "Carol had built a very successful and stable business, and I knew I could continue in her footsteps. Darren (husband) was very encouraging and supportive, and we paid everything off within six years. The store's still going strong after 21 years."
Consignees bring in good-quality, named clothes in current styles and good condition.
"We have great customers, and I think they enjoy coming to a place where everyone knows their names because you can lose the personal contact with all the big-box stores," Cook says. "Our customers feel comfortable sharing their stories with us and love finding great bargains and up-to-date styles."
Cook donates unsold and unclaimed clothes to various charities.