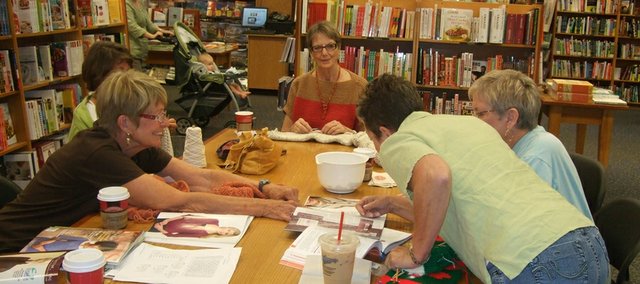 Monday, September 6, 2010
The Borders café bustles early on Saturday mornings. The crowd isn't the typical scene of students studying or people reading, but rather women with skeins of yarn and a pile of crafts.
This is home to several of Lawrence's many crafts groups. Sweaters, dish rags, bags made from plastic grocery sacks and even books are among the products these groups of women bring to the bookstore, some half-done, others already complete.
And make no mistake, while men are welcome, these groups are almost all women.
"Men have no staying power. They have been, but they don't last," says Natalie Mason, a member of Art Before Noon, one of two groups that finds its way to the sturdy chairs and long tables near the bookstore's café.
Art Before Noon began when Gayle Sigurdson wanted moral support as she worked through "The Artist's Way," by Julia Cameron. Sigurdson, of Lawrence, described the book as a "12-step program" that nurtures creativity.
The group meets at 10 a.m. Saturdays and concludes, appropriately, by noon. The members sometimes bring crafts to work on, but much of the two hours is spent more abstractly: It's equal parts brainstorming and describing.
On this particular morning, Sigurdson and Mason ask the group to define the Victorian era.
A flurry of adjectives pop out of the group.
Lush. Ribbon. Lace. Making it hard to get out of your clothes. Fringe.
These ideas will form the basis of the pair's entry in the Lawrence Festival of Trees.
The group also discussed a retreat to an Audubon sanctuary in Nebraska. Several members brought in crafts they made from the trip, including a journal made of cloth dyed with mud and paper made on site.
In six years, Art Before Noon has grown via word of mouth, e-mail lists, and interested people walking past their meetings. They're always open to new members.
• • •
Ruby Shade and her friends have also found the Borders café to be a convenient place to gather.
The group, which meets about 9 a.m., is an informal group dedicated to knitting and crocheting. The women say they never check to make who's coming; whoever shows up, shows up. Shade, Lawrence, says on a few snowy Saturdays in winter, she's been the only one.
She still stayed and knitted for a few hours.
Most of these women bring their unfinished knitting or crocheting to work on as they talk.
When Betty Loucks, Lawrence, showed up at the table, she draped the sweater she was working on inside out over her body to show her friends her progress.
"We teach new people, and we help each other," she says.
Sherri Meredith, Lawrence, was crocheting a bag made from Hy-Vee grocery sacks. Eventually, the throw-away plastic bags will become a tote, likely for carrying her crocheting materials. Other members were creating a dish rag and a Christmas stocking.
As the group members worked, they chatted about their lives, their projects and even some knitting news. Shade also updated the group on their lottery tickets. Each month, several of the group members pool their money to buy a few lottery tickets. Between laughs, they say the money would be used to start a yarn shop if they won, just so they could spend more time together.
• • •
Down the street, Stitch 'n' Bitch hopes they've settled into Mirth Cafe, but not before trying out many other venues.
When Erika Shearer started the group, it met at the Eastside People's Market. She says it was the perfect spot: The place helped them find new members, gave them space to spread out with their work and encouraged their meetings.
Carrie Wendel-Hummell, another member, says the group tried out several locations to find the right combination of large workspaces, large amounts of natural light and a place where everyone felt welcome.
The group is trying regular meetings Thursday evenings at Mirth, mainly to work on their projects, and on Sunday afternoons at the Lawrence Public Library, to teach each other new techniques and crafts.
The group focuses on knitting, crocheting, and sewing.
Stitch 'n' Bitch is trying to expand its membership and its visibility. Shearer made a Facebook page and hung posters all over town for the first meeting. Wendel-Hummell saw the Facebook page and has been coming ever since. A large crowd at the first meeting dwindled eventually.
"(Crafting) comes and goes seasonally," Shearer says. She expects the crowd to pick up as summer turns to fall and winter.
Wendel-Hummell says that the group is mostly women, but they've talked about doing a koozie knitting seminar or other projects that might encourage male membership.
"It's a good chance to meet people outside of school," Wendel-Hummell says. A mother of two and a Kansas University graduate student, she joined to get out of the house and meet new people while also having good, intellectual conversation.
"We don't actually bitch that much. We are not just sitting around griping about things," she says.
(The name Stitch 'n' Bitch was actually coined by the book, "Stitch 'n' Bitch: The Knitter's Handbook," by Debbie Stoller. A national Web site, http://stitchnbitch.org/, was spawned where local branches can register.)