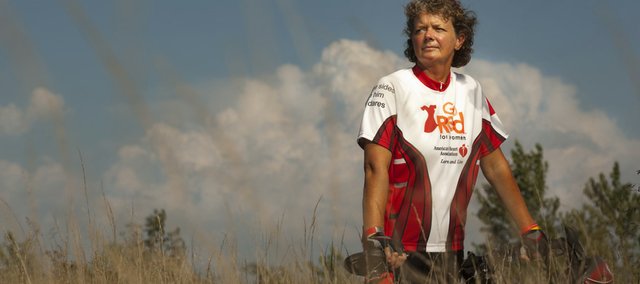 Monday, September 6, 2010
The first indication that something was wrong was when 39-year-old Michelle Derusseau went to sleep halfway through the KU-Syracuse NCAA college basketball championship game in 2003. Her husband, Ron couldn't believe his wife, a loyal Jayhawk fan, was sleeping through the biggest game of the year.

Derusseau didn't think much of it.
"A week later I got up feeling really nauseous and just soaked with sweat," she says. "I thought I had the flu, so I called in sick and went back to bed."
After dinner the next evening (a BLT slathered in mayonnaise), Derusseau felt a sharp pain in between her shoulder blades.
"I thought it was a muscle spasm, and I kept trying to work it out," she says, reaching back to indicate the space where the pain originated. "Then I couldn't seem to catch my breath, and my arm went numb. I called for Ron, and he said we should go to the hospital.
"When we were driving, I finally put everything together — the fatigue, nausea, sweating and shortness of breath — I was having a heart attack."
Once they reached LMH, Derusseau was life-flighted to St. Luke's Hospital in Kansas City because there was no cardiac unit in town at that time. At St. Luke's she had two stents implanted.
But while the stents had the desired result of immediately reducing her physical pain, it took longer before Derusseau realized the emotional toll heart disease would take.
"It was a dark day," she says of her release from the hospital, an Easter Sunday. "I just kept crying."
As with others who have survived a heart attack, Derusseau had to readjust how she saw herself.
The heart attack "came as a complete shock as I had always been athletic and at the time was swimming three miles a week," she recalls.
But Derusseau says she didn't have the healthiest lifestyle habits.
"I thought I was doing well if I ate the tomatoes at Taco Bell and the lettuce on my Big Mac," she says.
And while Derusseau quit smoking three years prior to the attack, she never got regular medical checkups. And when she had her cholesterol checked at the hospital she noticed that while the overall number was only borderline high, her triglycerides were "off the charts."
The impact of the heart attack has stayed with her.
"For many years there wasn't a day that went by that I didn't at some point have this fear that I could drop dead at any moment," she recalls, noting that "none of us is guaranteed tomorrow."
To help guarantee more tomorrows, Derusseau has made changes in her lifestyle, including a more heart-healthy diet. "And I've learned to listen to my body," she says.

She received another stent in 2007 when tests revealed a 75 percent blockage in one of her arteries. It left Derusseau more determined than ever to continue her journey toward physical and emotional health.
Part of her healing involves telling everyone she knows her story and the truth about heart disease, which is the No. 1 killer of women in the United States. To spread the word, Derusseau has set up a group on Facebook, "I Wear Red with All My Heart" which provides information about keeping your heart healthy and includes links, recipes and healthy events.
"If people find themselves in my position, listen to your body," she says. "Listen to the doctor, be sure to do the cardiac rehab — the group at LMH is a great support group — I was lucky to have them and my very supportive husband, family and friends. I am truly blessed."
With her doctor's OK, Derusseau decided to enter the Olathe Medical Center's triathlon, which is Saturday. And she received special permission to wear the American Heart Association's logo on her cycling jersey.
"I have never worked so hard in my life," she says of her preparations, which begin at 4:30 a.m. daily. And while her old self might have been worried about winning, the new Derusseau is only interested in competing against herself.

"Victory for me is each time I complete a 5K, or open water swim, or a bike ride," she says. "It's not about the fastest time, it's about the journey."