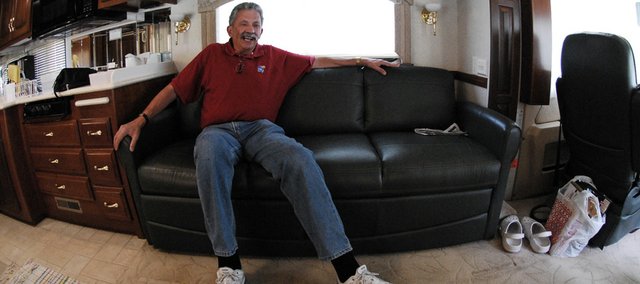 Monday, September 6, 2010
Ah, the open road. It's been calling to those with a sense of adventure since the earliest days of the automobile.
Photo Gallery
Life on the open road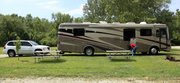 At RV's 100th anniversary, some Lawrence residents embrace the mobile lifestyle.
And ever since folks have been piling into the world's earliest cars, they've also been looking for a way to make things a bit more comfortable and homey.
Perhaps that's why 100 years ago this year someone came up with the brilliant idea to mass-produce the recreational vehicle.
It's a car. It's a house. It's a home on the road.
"It actually started in Europe. The first motorhome that I know about was made in France in the 1800s. But by 1910, there were at least three manufacturers building units," says RV historian David Woodworth. "The one thing that has remained constant is why people do it. While the vehicles change, the RV offers people freedom, flexibly on the road, and people just really like the idea of being able to pull off and be at home. And that has remained constant from 1910 to today."
Woodworth is a California-based collector who owns "only" 20 RVs at the moment — he's had up to 50 RVs, which are rated from Class A to Class C depending on size and design. He's purchased everything from a 1916 "telescope apartment" model to one of several RVs produced by Anheuser-Busch to keep the company afloat during prohibition. Not that he'd take an antique model cross-country — he says new ones are the way to go for serious travelers, because, while the basic premise of the RV hasn't changed much in the last 100 years, the industry has had a bead on technology like none other.
"That's really the big thing about RVs, they just follow the technology," says Woodworth, who notes that the new, top-of-the-line models and their accompanying technology can cost up to $1 million. "Today's RV is really, really comfortable."
Martini camping
Comfort and flexibility is exactly why Dudley Crow adopted the RV lifestyle. The Lawrence resident has owned three motorhomes, including his latest, a 2002 Newmar Mountain Aire, that's a 39-foot "Class A" RV — meaning it's the big, long, touring type that sure looks like a moving home when tooling down the highway.
The home-like feel goes for the interior, too. The inside is spacious despite amenities that rival many a Lawrence apartment. It's got a large double bed, a two couches, two flat-screen TVs (complete with in-motion satellite), a full washer and dryer, microwave and cherry hardwood cabinets. He calls the life "martini camping" with a chuckle.
"We had tent camped. We had had a nice Coleman pop-up camper, and we wanted to graduate to something a little different," Crow says. "We can go to our own space, we have our own stuff. As a friend of mine says, 'I know whose head was on the pillow last night and I know how clean the bathroom is.'"
And part of the year it actually is his home. He and wife Janet are what Floridians call "snowbirds" — retirees who spend the winter months in the Sunshine State. The Crows have a trailer plot near Orlando where they park for the colder months to be close to family.
Family is also the reason that the Crows are selling their beautiful motorhome. Because, although the Crows' RV is a Class A, it does come with a downside — it's still built for the road, not for a full house.
"What we have now is designed really for two adults, perhaps one other person could sleep on the fold-down couch," says Crow, who wants to buy a bigger, permanent mobile home for his Florida lot. "We want more space so we can do the entertaining as well."
On the road again
Also initially attracted to the freedom of life on the road was Phil Brewster, who sold his house and hit the road back in 2000.
"We completely sold out in Lawrence and got a 35-foot Itasca Suncruiser and traveled for two years," he says. "It was really nice, but after two years, why, you have to decide what you want."
And what he wanted was to save money. Brewster says that 10 years ago when he was traveling, it cost about $80 to fill-up his Class A motorhome. With today's gas prices, he estimates it would cost about $200 to fill up the same model, which gets only about 7 miles per gallon.
So, Brewster pulled a U-turn and moved back to Kansas. He sold his most recent motorhome last year, but he has kept one foot in the RV lifestyle: He learned to repair them and now has his own Lawrence-based business, Road Runner Mobile RV Service. He performs "house calls" on everything from pop-ups to $1 million Class As.
And, he admits, there's nothing like spending hours working in other people's RVs to get a man hear the call of the road yet again.
"We'll probably get another one sometime," Brewster says. "I'd love to."
More like this story on Lawrence.com