Tuesday, September 7, 2010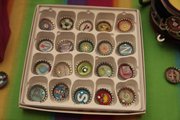 About the festival
When: 10 a.m.-5 p.m. Sunday
Where: South Park, 1141 Mass.
What: Besides artist tents, the festival will feature food vendors, live music and children's activities.
Cost: Free
For more information call 832-7940 or visit lprd.org.
Reader poll
Yes, always.

18%

54 votes

Yes, but not this year.

12%

37 votes

No, never.

55%

159 votes

Not before, but I'll try it this year.

12%

36 votes
286 total votes.
In about a week, South Park will transform into a maze of colorful tents filled with everything from jewelry to abstract paintings.
About 170 artists and craftspeople plan to exhibit and sell their works Sunday at the 31st annual Fall Arts and Crafts Festival.
Duane Peterson, special events supervisor for Lawrence Parks and Recreation, said more local artists are involved this year than previous years.
"I think when the economy is bad, people travel less and try to find different ways to make money," Peterson said. "In an economy like this, shows go over really well because prices go down and people can get high-quality art at a lower price."
While some artists have attended the festival for years, others are just getting started.
Katelyn Hess and Rinny Herndon, sixth-graders at Quail Run School, will be first-time artists at the festival. Katelyn and Rinny have been best friends since birth but just recently decided to team up and sell art.
Their business — Kids Kaps — sells their hand-made, custom-design bottlecap necklaces. The supplies of paper, caps, stickers, glitter, a resin adhesive, magnets and whatever trinkets they might choose may seem simple, but each cap is unique. The girls have made everything from Justin Bieber necklaces to holiday Santas.
"It's really fun because we make all sorts of different kinds," Katelyn said. "We get ideas from walking through stores or just talking to friends."
The girls first experimented with the idea of selling the caps at a family garage sale last August and have since expanded into a business that now includes their own e-mail account, business cards, workshop space and personal profit. The girls also sell the caps at Beyond the Door in downtown Lawrence and cater to birthday parties. Besides learning the ins and outs of making the caps, the girls have also expanded their knowledge of the business world.
"The business part has been really interesting," Rinny said. "I've learned how to deal with money and realize that everything costs money."
Kids Kaps is completely self-sufficient. Kristin Hess, Katelyn's mom, helps the girls order supplies online, find shows and clients, print designs and other small tasks, but the girls are in charge.
"They split the money three-way, and a third of that goes to buying supplies," Hess said. "They have a money log and keep track of everything. It's really incredible to see them grow and see their responsibility change."
The caps range in price from $7 to $12, and the girls estimate they've earned about $500. Rinny said she used most of her money to help pay for a school trip to Washington, D.C. — a trip she would not have gone on otherwise.
Rinny and Katelyn said they have enjoyed the experience of making art and running a business so far and already have plans to expand. More venues and a website are likely to come next. Whatever comes of the business, the skills they have learned will be valuable throughout life.
"Nobody we know has gotten experience like us," Katelyn said.