Wednesday, September 8, 2010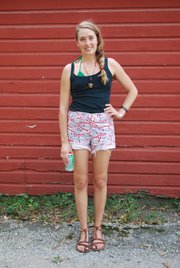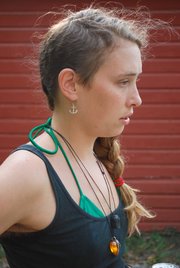 Age: 27

Sign: Gemini
Occupation: Leather smith
Hometown: Fort Scott
Time in Lawrence: Eight years.
What were you doing when you were scouted? Playing the egg toss at a Labor Day party.
How would you describe your style? Sophisticated lady.
What are your favorite fashion trends? Petticoats, handmade leather accessories, patterns, boots, mohawks, jumpsuits, layers and big buttons.
What are your least favorite fashion trends? Cargo shorts and sporty running outfits.
What would you like to see more of in Lawrence? Kimmel's Sundries and Bodega at Eighth and Mass, an elderly social center downtown, water sports on the Kaw River, Fantini's Sandwich Shop, a drug/grocery store downtown, cheaper wine, and more street dancing, street parties and street food.
What would you like to see less of in Lawrence? Stress.
Do you have any fashion influences? Neanderthals, Carolina McKee, the desert and the plains.
Do you have any piercings or tattoos? I have a pretzel tattoo and pierced ears.
People Say I look like: Shelley Duvall as Olive Oil in "Popeye."
Tell us a secret: I can see auras.
More like this story on Lawrence.com