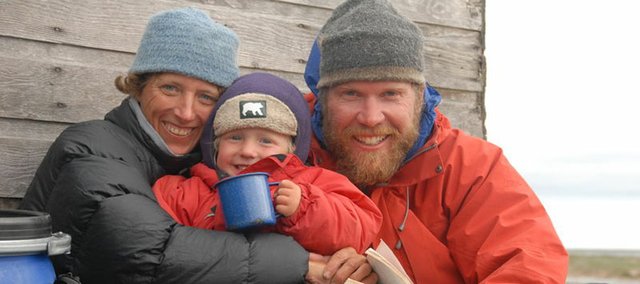 Thursday, September 9, 2010
Past Event
Friday, September 10, 2010, 7 p.m.
Liberty Hall Cinema, 644 Massachussets Street, Lawrence
All ages / $8.50
Past Event
Saturday, September 11, 2010, 7 p.m.
Liberty Hall Cinema, 644 Massachussets Street, Lawrence
All ages / $8.50
Lawrence may be the hilliest hamlet in Kansas, but you can't shoot Class 5 rapids on the Kaw, slalom down Campanile Hill or paraglide off Fraser Hall. Not legally, anyway.
Still, there is a sizable contingent of local flatlanders who relish mountain sports. Thanks to those folks, the Banff Mountain Film Festival in Lawrence has snowballed the last nine years.
"For the first several years, the festival wasn't making money at all," says Dan Hughes of Sunflower Outdoor and Bike Shop, sponsors of the two-day event, opening Friday night at Liberty Hall.
"We were breaking even, basically. Then, as more and more people attended, the word-of-mouth just got out of control. Last year, we set up chairs for 550 people, and it was standing room only. So, the next night, we had 600 chairs set up and — boom! — sold out again."
The festival, presented by The Banff Centre of Banff, Canada, is a benefit for the Lawrence Mountain Biking Club and the KU Rock Climbing Club. It is a collection of the best films made each year involving mountain adventure. This year's line-up of 14 films features topics like rock and ice climbing, mountain biking, off-road unicycling and speed flying.
But, Hughes says not every film will stop your heart.
"When we brought the festival to town the first time, I thought, 'Yeah, we want all the adrenaline films we can get,' because those were the ones that appealed to me at age 28 or 29," he says. "I still enjoy the adrenaline films — and a good ski film is a good ski film — but, over the years, it's the human interest ones I remember above all the others."
This year's offerings include "First Ascent: Alone on the Wall," which follows Alex Honnold, 24, as he performs the first free-solo of the Regular Northwest Face route on Yosemite's Half Dome, and "Finding Farley," a couple's 5,000-kilometer adventure, including trekking, sailing, portaging and paddling, with their 2-year-old son and family dog in tow.
"You can have people like my mom sitting in the seats," Hughes says. "She used to be an outdoors person, and she still gets outdoors, but she's not going to star in her own Mountain Dew commercial anytime soon. She gets something out of the festival. Then, there's the 18-year-old rock hound from KU who is probably practicing his one-finger pull-ups at night so he can be super buff and climb at a high level. There's something for him, too."
Tim Corcoran and his wife, Linda, of Ottawa, have attended the festival every year.
"My wife and I are travelers," Corcoran says. "She has been to four continents; I've been to all seven. We like to get out there and do exciting things, and the film festival showcases a lot more extreme stuff than we would ever do. But, it gives us ideas and it's very motivational."
Corcoran cites a particular film from a past festival as the inspiration for a memorable trip.
"There was a movie called 'Fatima's Hand' and, in one part, there are some supplies delivered to the base jumpers by motorized paraglider," he says. "After that, I tracked down a motorized paragliding festival in Claremore, Okla., and went down and did some motorized paragliding with some pros. Right now, I really wish I could buy one."
Seana Strain, World Tour Coordinator for the Banff Film Festival, says, despite its elevation, Lawrence is the ideal place to screen films about mountain life.
"The audience in Lawrence is a dream audience for us," Strain says. "They really engage with the films and aren't afraid to gasp, clap, or cheer in response to what they see on the screen. We love working with this type of crowd. It just shows how strong and inspired the local community is."
Banff Movie Line-up
Friday night
'MedeoZ' (Six minutes, multi-sport, humor, family-friendly)
Filmed in the Mont Blanc range, this short features six different mountain sports: climbing, skiing, snowboarding, speed riding, paragliding and BASE jumping. A photographer wants to take one shot showing all the sports, instead of taking separate photos of each sport. It takes a lot of work!
'Mont-Blanc Speed Flying' (10 minutes, speed riding, family-friendly), Best Short Mountain Film
Six speed riders fly from the upper slopes of Mont Blanc down to Chamonix in one continuous 10-minute shot, filmed in Cineflex.
'Take a Seat' (46 minutes, human story, adventure, biking), Special Jury Mention
Dominic Gill's mission is to cycle the 32,000 kilometers from the northern coast of Alaska to the southern tip of South America, on a tandem bike, picking up random strangers on the way. A gripping tale of two years and two continents, full of extraordinary characters and incidents.
'Deep/Shinsetsu' (Three minutes, powder skiing, family-friendly)
"Shinsetsu" means deep powder in Japanese. This short film expresses a typical day in the mountains in Japan.
'First Ascent: The Impossible Climb' (24 minutes, rock climbing)
Star sport climber Chris Sharma takes on his greatest challenge yet: the unclimbed, 90-meter limestone cave on Mt. Clark, Calif. Chris dangles from one finger, jumps between minuscule handholds and takes 30-meter free falls as he endeavors to make the first ascent of what will be the most difficult rock climb in the world.
'Rowing the Atlantic' (26 minutes, sea-kayaking, adventure, human story, family-friendly)
A few years ago, Roz Savage gave up what for many would be an ideal life (husband, great job, big house), picked up a few pairs of rowing oars and a boat to go with them and set off across the Atlantic Ocean — alone — in a rowboat.
'Kranked — Revolve' (11 minutes, mountain biking)
The coolest human-powered adrenaline tool ever invented — the mountain bike? "Revolve" blasts in cinematic glory from the French Alps to the lush coast of B.C., incorporating dirt jump, trail, freeride, slopestyle and downhill.
Saturday night
Revolution One (10 minutes, unicycling)
"Revolution One" takes a look into the history, people and places that have defined the rapidly emerging sport of off-road unicycling. Follow world champion unicyclists Kris Holm and Dan Heaton as they display riding that has blown the minds of viewers worldwide.
'Finding Farley' (63 minutes, adventure, culture), Grand Prize & People's Choice Award Winner
When filmmakers Karsten Heuer and Leanne Allison, along with their 2-year-old son Zev and indomitable dog Willow, set out to retrace the literary footsteps of Farley Mowat, they meant it literally. Their 5,000-kilometer trip — trekking, sailing, portaging and paddling from the Prairies to the Maritimes — is captured in this film. The family's arrival at their final destination (Mowat's Nova Scotian summer home) is, as Karsten says, "an affirmation of what the land and animals had already told us. Stories aren't so much written or created as they are released, expressing what's been there all along."
'Project Megawoosh' (Four minutes, humor, spoof), Special Jury Mention
Bruno Kammerl, a German engineer, works to perfect the world's tallest human water slide.
'Hunlen' (12 minutes, ice climbing)
What happens if you show up to climb one of the biggest frozen waterfalls in Canada — but it isn't completely frozen? Will Gadd and EJ Plimley battle to do the first ascent of B.C.'s remote Hunlen Falls. Falling ice, crashing water, fear, big fun!
'Africa Revolutions Tour' (20 minutes, white-water kayaking, sun catcher's project)
From the crocodile-infested White Nile in Uganda to big-water first descents in Madagascar, the film follows this group of friends on their dangerous mission. Accompanying the team is Rita Riewerts, the founder of the Sun Catchers Project, a nonprofit that installs solar cooking facilities in African orphanages, hospitals and communities. Join the team as they set out on an ambitious kayaking expedition in eastern Africa. Every cent this film generates will be donated to the Sun Catchers Project.
'The Ultimate Skiing Showdown' (Four minutes, Nordic skiing, family-friendly)
The final sprint showdown between the fastest skiers on Earth in juxtaposition with a stunt performer showing some of the sickest moves on Nordic skis. A lot of fun!
'First Ascent: Alone on the Wall' (24 minutes, rock climbing, free solo climbing)
After gaining international climbing renown for his landmark free-solo of "Moonlight Buttress" (V, 5.12+, 9 pitches) in Zion National Park, Utah, in April 2008, 24-year-old Alex Honnold moves on to his next big challenge: the first free-solo of the "Regular Northwest Face" route (VI, 5.12a, 23 pitches) on Yosemite's Half Dome.
More like this story on Lawrence.com