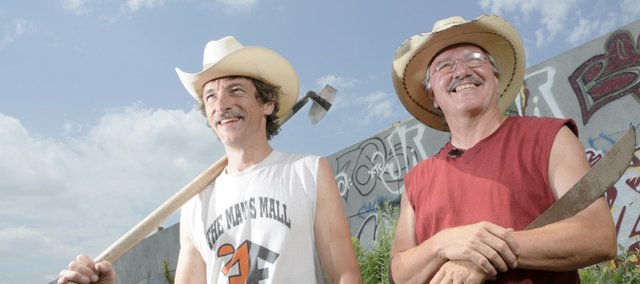 Friday, September 10, 2010
Two years ago, a feature film was being shot in Lawrence.
A crew of up to 60, plus dozens of extras from Lawrence, had a role in making the movie, called "Earthwork."
For a month, the farm at Pendleton's County Market was the main set. Most in town likely remember Massachusetts Street being closed for a day of filming.
After postproduction, the three producers — all Kansas University grads, and two still living in Lawrence — took the 93-minute movie on the road, showing it in more than 50 film festivals across the country and winning prestigious awards.
But two years later, few people in Lawrence have seen the finished product. Tonight and this weekend they get their chance. The film will be screened at 8 tonightfriday and 8 p.m. Saturday at the Lawrence Arts Center, 940 N.H. A third showing has been added for 2:30 p.m. Sunday.
"Lawrence was very aware of the film being shot here," says Chris Ordal, producer, writer and director, who will talk to KU film students today. "Now it's finally coming to Lawrence. Now we are here."
"Earthwork" is the story of Lawrence crop artist Stan Herd, who in 1994 traveled to New York City to create a massive environmental artwork on land owned by Donald Trump. Skyscrapers would soon be built on the property. Herd recruited homeless people living in a nearby subway tunnel to help complete his work.
John Hawkes, Sol Star of HBO's "Deadwood" fame, stars as Herd, and Lawrence actress Laura Kirk plays his wife, Janis. James McDaniel, Lt. Fancy from "NYPD Blue" and Zach Grenier, of ABC's "The Good Wife," also star.
The film cost $1 million to make, most of which was spent in Lawrence, the producers say.
"This weekend's screenings are kind of our thank-you to Lawrence," says Brad Roszell, the film's producer and editor, who along with Brendon Glad, also an actor in the movie, rounds out the producer trio. "In the end, I think people will be very proud."