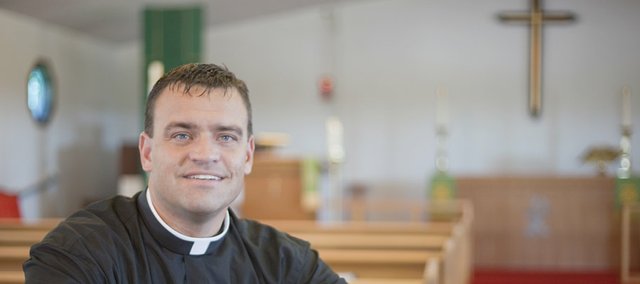 Friday, September 10, 2010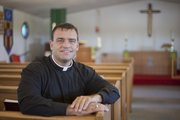 The idea of a cop-turned-pastor seems like the basis for a Hollywood action franchise, but for the Rev. Robert Weinkauf, that's just life as he knows it.
Weinkauf, pastor at Basehor's Risen Savior Lutheran Church, 14308 Fairmount Road, has been a reverend since 2007, but for a decade, he was chasing suspects down alleys and risking his life as a volunteer police officer in Topeka.
By day, Weinkauf was in management with FedEx Kinkos, but on weekend nights after his two children went to bed, he'd pull out his badge and hit the streets, taking calls and providing backup. It was a breakneck schedule that he maintained for 10 years, happy to have one foot in both the professional and crime-fighting worlds.
"I was very enriched by the community service of it," says Weinkauf, who left the force after choosing the seminary in 2003. "Yes, it was being a reserve, and literally sometimes putting your life on the line, and I'm not getting paid for it, but I was certainly doing what I could to make the community a better place."
His day and night jobs may seem like oil and water, but Weinkauf insists that he's a better pastor because of his time behind the badge. He says seeing people at their worst prepared him for the pastorhood.
"So often, you run into people who are at a bad place in life," he says. "And they're needing some direction and guidance and sometimes they're needing to be incarcerated to kind of hit the rock bottom to help turn things around."
He's also turned things around at Risen Savior. When he arrived at the church, fresh from seminary in Fort Wayne, Ind., the church was called St. Martin Lutheran Church, hadn't had a full-time pastor in 30 years and its membership had dwindled to 25 people. With Weinkauf's arrival, though, the church merged with Emmanus Lutheran Church in Bonner Springs and congregation's attendance began a steady rise, finally mirroring the fast growth of the area, which is largely residential and close to The Legends shopping district.
Now, the church's tiny building is bursting at the seams with 275 members and two Sunday services. One of the members it gained was Jerry Frese, who had previously been driving from Basehor to Lawrence or Topeka to attend a church of his liking. Frese joined the church after hearing from his son, himself a Lutheran minister, that Weinkauf was on his way.
"He called me and told me that a good, confessional, liturgical pastor (was) headed our direction, because I had never attended this church before," says Frese. "If people are looking for a serious, liturgical church, we are offering that ministry."
Thanks to that uniqueness and Weinkauf's efforts, that ministry will soon have a new place to call home, a large building at the corner of 147th and Leavenworth Road, which broke ground in July.
Frese is the new building's general contractor and he says, in fact, that the design's old European style harkens to both Weinkauf's pastoral manner and what Risen Savior is all about — finding people's best through Christ.
"The architectural design of this structure is one that portrays our beliefs," Frese says, pointing out the steeple and crucifix on the building don't play coy with the church's beliefs. "Pastor Weinkauf is already a very confessional, liturgical person, and now we'll have a structure that will mirror that."
Weinkauf says he's happy whether new parishioners are knocking down the completed church's doors or not because he knows, like when he was a police officer, he's probably helping people either way.
"If the Lord blesses us with growth, thanks be to God," he says. "If we don't grow, thanks be to God."