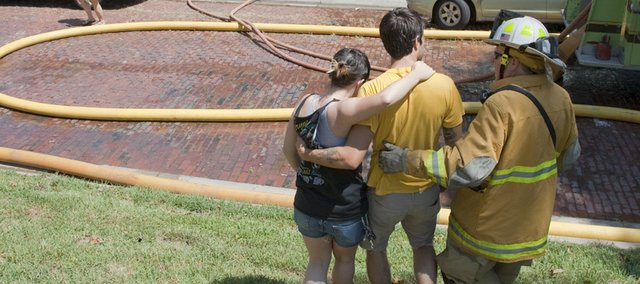 Sunday, September 12, 2010
As a photojournalist, I have had many people tell me what a cool job I have. All the things I get to cover, all the interesting places I get to go. And I would agree — most of the time.
Each day is something new. There are days that working as a newspaper photographer that can be challenging, like having an assignment that is not photo driven but I still have to come back with an image of something; getting a portrait of someone but getting only five minutes for the shot; or working outdoors in very hot and humid conditions or freezing rain.
But nothing is as challenging as having to cover spot news that involves people under distress. These would include accidents, fires, natural disasters or any other tragedy. A news photographer has to get the shot that tells the story, but they also have to deal with the surrounding environment — that is, emergency personnel, the crisis at hand itself, victims and, of course, our own safety. Plus, the scene is constantly changing, so we have to be on our guard to that change and be ready to react.
A recent incident I experienced was a house fire near the Kansas University campus. Firefighters were battling this fire that was mostly contained to the second floor. There were flames, lots of smoke and plenty of water used to put the fire out. I'm sure there was plenty of damage inside the home.
After getting the average shots of fire crews working the scene, I notice this woman approaching the home from the side. She had a look of shock about her. I figured she might be one of the residents from the house. So I started to shoot her reaction and waited to see what happened next.
Soon the fire chief walked up to her and explained the situation and then escorted her to where I was standing across the street. At that point I didn't take any pictures of her but I kept just kept my eye on her where she was standing just to my right. Pretty soon, a friend or roommate showed up and then the situation changed. She ran to him, crying, and I sensed a good picture opportunity developing.
The two embraced, she was crying and the burned house was in the background. All this was just a matter of a few feet in front of me. A real moment.
Quickly, I positioned myself for a better composition and raised my camera to start shooting. Just as I pushed the shutter button, the woman's friend, who was facing me, started to give me the finger and told me to "get the f--- out of here."
As my camera's motor continued to fire, this young man started to walk toward me with his finger still extended, still telling me to "get the f--- out of here" and still embracing the young woman. After a sequence of five frames, I put down my camera. At this point, the young man was practically in my face. He continued to tell me to leave. I told him I had every right to be there, I had a job to do, and I was sorry for his loss. And I was not leaving.
This is the point that photographers get the bad reputation in the public's eye. Some see us as vultures with cameras, waiting to feed off the dead carcass. But how is this different from anyone standing nearby with a cell phone? Nowadays, any event is captured by a great number of cell phone cameras. Almost everything in our lives is witnessed or photographed by someone else. And soon the videos show up on YouTube.
People complain when a photographer is shooting a news scene that shows emotion. Yet people continue to drive by an accident, rubbernecking to see if there is anything to look at. Is there any carnage there?
Photographing something that has emotion is part of our job to tell the story. It is not easy. We have to divide ourselves from the moment in order to capture the story. But we are affected. If it didn't move us in some way, we wouldn't photograph it. It strains us sometimes emotionally.
There is nothing like raw human emotion — people reacting to situation. Happiness, sadness — it affects us all and we all show it differently. But we all are the same.
We all have emotion. I also just happen to photograph it.