Monday, September 13, 2010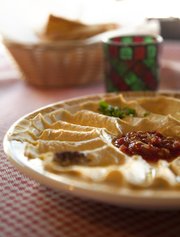 Get the dish
Are you dying to get your hands on the recipe for your favorite local restaurant dish? Send your request to staff writer Cathy Hamilton at chamilton@ljworld.com, or call her at 832-6319, and she'll try her darndest to get it for you.
Katie Egging of Eudora has sampled hummus in restaurants around the world, but it is Aladdin Café's version she has deemed the tastiest of the tasty.
"I like Aladdin's because of the spicy green chile puree, or whatever it is, the smooth texture of the hummus, and the soft, warm pita," Egging says. "They make the dish feel more like an indulgence than the everyday hummus I make at home."
Egging has made attempts to duplicate the dish at home but without complete success.
"To mimic the chile puree, we pulse jalapenos in the food processor and use them to top the hummus," she says. "It's delicious, but it's not quite like Aladdin's."
"Recipe on Request" came to the rescue.
When the Journal-World came knocking, Mohammed Iskandrani, owner of Aladdin Café, 1021 Mass., was all too happy to help Katie out. He says the dish is one of the most popular on the menu. But, he says, for the record, the credit for the recipe belongs to his mother, Salwa Iskandrani, who cooks in his kitchen.
"She's the one who makes the hummus and salad dressings and other things," Mohammed says.
Aladdin's Hummus
3 pounds dry chickpeas
3 cloves fresh garlic
1/2 teaspoon salt
3 tablespoons lemon juice
1/2 cup tahini sauce
1 cup water
Soak chickpeas overnight, then boil for one hour. Drain and let cool for one hour. In food processor, add chickpeas with remaining ingredients. Process until smooth. Sprinkle lightly with sumac. Serve drizzled with olive oil and accompanied by green chile "hot sauce."
Hot Sauce
10 medium jalapenos (stemmed but not seeded)
2 cloves fresh garlic
3-4 leaves fresh mint
1/2 tablespoon olive oil
Pinch salt
Place all ingredients in food processor or blender. Process until smooth.