Monday, September 13, 2010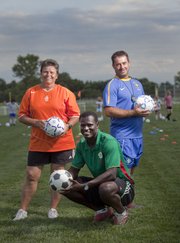 Kaw Valley Cup
The Kaw Valley Cup Tournament will be Friday-Sunday at the YSI soccer fields, west of the Kansas Highway 10 bypass. See more information at KawValleySoccer.com.
If the frenzy that accompanied America's performance in the World Cup last summer is any indication, it could be that we are in the midst of a revolution in people's attitudes toward the game of soccer. Scores of children play the game on playgrounds nearly every night of the week, and fans are speaking up.
"I've heard people say soccer is boring to watch because goals are few and far between, but to me the beauty lies in the constant play," says Julie Campbell, Lawrence, parent of two soccer players, Sam, 11, and Danny, 7. "There is no running off the field to consult and strategize with the coaches. Players own it."
Perhaps no one is happier that Americans have embraced soccer than those who work for Kaw Valley Soccer Association, three of whom came to this country with the game in their blood: Mauro Nobre, Riny de Boer and Oumar Seck.
These three individuals are a diverse group of people representing three different continents. Nobre, a premier head coach and the director of the Club League, was born in Brazil; de Boer, registrar and head coach of Kaw Valley Girls, and the All Girls academy director, grew up in The Netherlands; and Seck, coach of the Under-13 and Under-14 year-old boys, spent his youth in Senegal.
These three, along with teaching technical and tactical skills, strive to instill a love and respect for the game that they acquired in their youths. But while their early lives and experiences are as varied as the places they were born, the common bond and the primary activity that defined all three of their childhoods was soccer.
Mauro Nobre
"Soccer and Brazilian culture and identity are intertwine. It is the sport that dominates people's passions," Nobre says.
When Nobre moved to Lawrence at 17 when his mother began a Ph.D. at Kansas University, he was a founding member of the first Lawrence High School soccer team. He began volunteering at Kaw Valley in 1986 and has been on the staff since 1994.
Riny de Boer
In 1987 de Boer arrived in Lawrence when her husband began teaching at KU.
"In the Netherlands we play soccer the moment we can walk, and I thought it was the end of soccer when I left," she says.

Instead, de Boer was pleasantly surprised to find opportunities for her two young boys to play in Lawrence, which is how she became involved with Kaw Valley.
"These little people make me so happy," she says. "To me they are like medicine. And I like being a piece of the puzzle that helps them grow."
Oumar Seck
By the time Seck arrived in Lawrence 10 years ago to study aerospace engineering at KU, soccer was gaining momentum in the U.S. due in part to individuals like Nobre and de Boer, who shared their joy of the game with every child they coached.

Ironically, though, Seck wasn't playing soccer when he arrived.
"Soccer is the only sport kids know in Senegal, and I was pretty good in my community," he says.
He was so good, in fact, that French recruiters invited him to France to be part of their national farm team. But because Seck was only 16 years old, his father wouldn't let him go.

"I was so angry at my dad I quit playing soccer altogether," Seck says.

Once in Lawrence, however, he saw that KU had a team, so he signed on and rediscovered his love of the game. He met his wife, Kaw Valley's high school girls coach, Rebecca Nye, playing soccer and is now studying sports management at Mid America Nazarene University with the plan of coaching professionally some day.
"Soccer is such a great sport because it brings people together," Seck says. "I tell the boys that their team is their second family. They build trust with one another and they learn to rely on each other.
"They give me money, but that's a bonus," he says. "I get paid by working with these kids."
For these coaches, developing the technical and tactical skills makes kids not only better soccer players, but better people.
"Sure, winning is fun," de Boer says. "But youth sports should be about learning and not winning. I win every weekend I teach a skill and they use it."
"When children build technical skills in a sport like soccer, they carry that confidence to other areas of their life," Nobre says.

Marcus Dudley, executive director of Kaw Valley Soccer, says he's fortunate to work with such talent.

"It's pretty incredible that here we are smack in the middle of the country and our kids are exposed to such a diverse coaching staff," Dudley says. "But though they're different, they're also the same in that they have similar attitudes toward youth sports, in that it's about developing the whole person."
Campbell, also values what these coaches bring to the game.
"They bring a passion that we as Americans just don't get quite yet, and it's infectious," she says. "Soccer provides tools to teach [my boys] how to navigate through some of the murkier, uglier sides of life. Kids will sneak in an elbow to the ribs, refs make bad calls, parents will yell foul and obnoxious things from the sidelines. While you cannot control the actions of others, you can control how you react to them."

More like this story on Lawrence.com