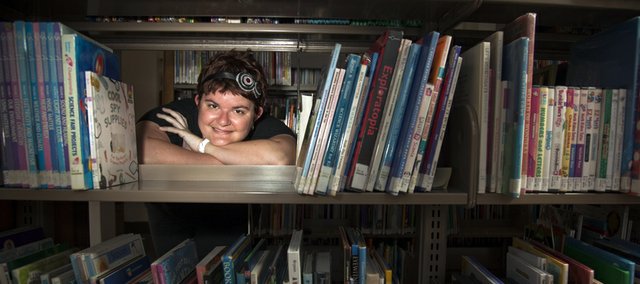 Monday, September 13, 2010
Kim Fletcher loves literature, wanted to live in a college town and have a career in public service. She's combined all three. Fletcher is youth services coordinator at Lawrence Public Library.
Born in Kansas City, Mo., in 1983, where her father is an ophthalmologist and her mom, a former teacher, is an office manager, Fletcher read avidly, played cello in a youth orchestra and ice-skated competitively. She graduated from The Barstow School in 2001, decided to spread her wings a little and enrolled at Kenyon College, Ohio.
"It's one of the top 50 liberal arts colleges in the country," she says. "I didn't know anyone there and wasn't sure what I wanted to major in, but I knew I'd fit into a smaller school."
Fletcher elected to study French history and graduated with a Bachelor of Arts in 2005. She then received a master's degree in library and information services from the University of Michigan in 2007.
She worked at the Ann Arbor District Library and a Dayton Metro library branch before returning to Kansas City.
"I was really missing my family," Fletcher explains.
She moved to Lawrence in April 2009, became assistant youth services librarian at the public library and was promoted to coordinator in October 2009 shortly after the unexpected death of long-time librarian Joyce Steiner.

"Every library works differently, so I work hard to ensure everything runs smoothly," Fletcher says. "I'm lucky our department has such a supportive staff. Some are new, others have worked here for years, but they're all enthusiastic and willing to try new and innovative things to keep our programs up-to-date."
She and her team have done some restructuring. They've added a new teen librarian and are rebuilding the teen program, and held a successful summer program, "Thursday Performance," with puppeteers, musicians, magicians and acrobatic birds.
"I love being an administrator and want to insure things are well-organized so events go smoothly and seamlessly," Fletcher says.
"I also get lots of variety. I'm able to help with and attend all children's and teen events and be around at storytime to answer questions. I get to interact with the kids and get to know them so they recognize a familiar face when they come into the library."
Her familiar face was less so during spring visits to elementary schools; it was hidden under a flamingo hat.
"I played my guitar and answered questions for the flamingo," Fletcher says. "I had great fun and got to meet lots of new people."
Fletcher, her staff and a host of volunteers are now busy organizing the upcoming River City Reading Festival, which will be Oct. 9 at the library.
"We're focusing on children this year, and it promises to be great fun for everyone," says Fletcher.
Presenting authors and storytellers include Ann Ingalls, Kate Klise and Priscilla Howe.
"I love being part of a college town like Lawrence," Fletcher says.
"It's a great community, and it really supports the library. I love the organizational side of my job and get a great sense of accomplishment when things work out well for everyone."