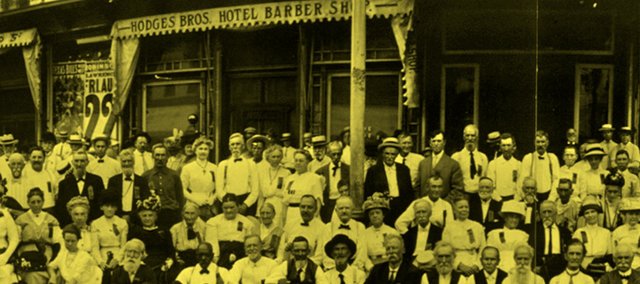 Tuesday, September 14, 2010
Katie Armitage sees the pride in their eyes.
Some 126 people, lined up in rows along Massachusetts Street, look toward the camera. It was Aug. 21, 1913, and they had gathered to commemorate the 50th anniversary of Quantrill's Raid, the massacre by pro-slavery rogues that killed approximately 180 Lawrence men and boys and left much of the town's buildings smoldering.
Armitage knows that, for the survivors posing in the photo, the raid wasn't so much about the Free State cause or Civil War strategy as it was about people — brothers and fathers, neighbors and friends. To have survived the raid, and to have rebuilt the town, was about carrying on the legacy of the fallen.
"It," Armitage says, "was a badge of honor."
Armitage, a local historian, has commemorated those who lived through the raid with a new book, "Lawrence: Survivors of Quantrill's Raid." The book is part of the "Images of America" series by Arcadia Publishing.
The book tells the story of Quantrill's Raid mostly through photographs and captions. Many of the photos are portraits of survivors and a brief synopsis of the subject's story.
"I don't have every story of every survivor," Armitage says, noting the publishing company's strict page limit. "There are many more stories I couldn't include."
Still, she drew on the archives at the Watkins Community Museum of History and Kansas State Historical Society, as well as family photos from survivors' descendants and her own collection to tell the stories. She also wrote short introductions to the chapters to give the photos historical context.
For some survivors, especially men, the stories are about how they made it through Aug. 21, 1863. Many Lawrence residents, including hotel namesake Shalor Eldridge, were serving the Union Army and was not in town for the raid. Others who were in town escaped — some, such as hotel-owner Robert Morrow, ascended Mount Oread, and others, such as newspaper publisher John Speer, hid in cornfields.
Women also played into the survival story. Elizabeth Fisher, wife of Methodist minister H.D. Fisher, held their 6-month-old baby while helping her husband escape from their smoke-filled cellar and also managed to put out the fires in their home.
For Pat Kehde, these stories were more than part of the town she's lived in her whole life. They were part of her family.
Kehde's great-grandfather, blacksmith Ralph Dix, was killed in Quantrill's Raid. Her great-grandmother, Jetta Dix, and their three children — twin girls and a baby boy — survived.
Based on Jetta Dix's memoir and other accounts, the events went something like this: Jetta hid the three children in a ravine that is now the site of Watson Park, a few hundred yards west of the blacksmith shop and home, where the Lawrence Public Library is today.
Jetta returned and begged her husband not to give himself up, as the raiders were asking. She pleaded with him to run.
Instead, Ralph apparently thought Quantrill's men would spare his life if he cooperated. Instead, they shot him as Jetta held onto his arm.
"Think of the 20-year-olds you know, and then to have three babies, and to have your husband murdered in cold blood in front of her, and her house burned down," Kehde says.
But like the focus of Armitage's book, Jetta Dix's story is about survival. She went on to rebuild the family home and started taking in boarders to sustain her family. She went on to marry one of the boarders in 1868, divorced him two years later and then married again to another boarder, with whom she would have three more children. She died in 1917 and is buried in Oak Hill Cemetery.
It's a story that was told often as Kehde was growing up.
"It's a different mentality, and you have some reason to really, really want to keep on living," Kehde says. "You really want to make it right. If you move someplace else, you feel you're deserting the effort that had been made. I've always identified with Jetta."
The individual stories about survival, collectively, became the town's rebirth.
Within five years, much of the town had been rebuilt. The population boomed from 1,645 in 1860 to 8,320 a decade later.
Some residents, realizing their good fortune in surviving the raid, dedicated their lives to service. Gurdon Grovener worked to re-inter victims from Oread Cemetery (now Pioneer Cemetery on Kansas University's West Campus) to the newly established Oak Hill Cemetery in East Lawrence, thought to be a more fitting place for the dead.
Others, such as Brinton W. Woodward, dedicated themselves to business. He was founder of Round Corner Drugstore and, with a business partner, later expanded to Kansas City.
"That first decade after the raid, there was an enormous amount of energy and building," Armitage says. "It was amazing how many people stayed."
And while some of that enthusiasm waned in later years, there was still interest in remembering the raid. Reunions were held in 1913 — when that panorama photo was taken — and in 1925. The reunions were spurred, in part, by news that Quantrill's raiders were meeting on the Missouri side of the state line to celebrate reunions of their own.
Even today, Armitage says, the raid is part of Lawrence's identity. Some people, she says, continue to take the massacre personally.
And that may be, in part, why the stories of the survivors still resonate.
"Maybe it's because we are so caught up in stories of 9/11 and Katrina, and what kinds of impact these horrific events have had, and what we can learn from them," Armitage says. "I don't pretend to answer that, but I just wanted to tell some of the stories."
More like this story on Lawrence.com