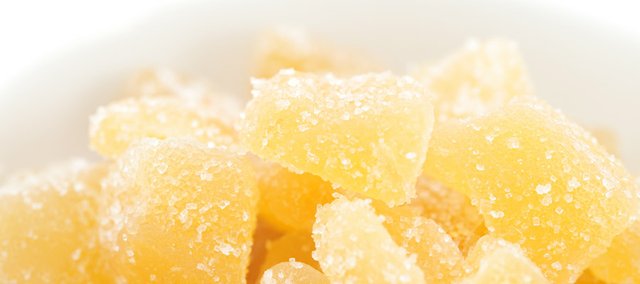 Tuesday, September 14, 2010
Ginger
What it is: Ginger is a rhizome (aka root) of a plant that has been a staple of Chinese cooking for more than 2,500 years. Even earlier than that, Babylonians, ancient Egyptians and Persians used it in their cooking, and by about 2400 B.C., the ancient Greeks made a gingerbread similar to the one we eat today, according to Aliza Green's "Field Guide to Herbs & Spices."
Season: Ginger is available year-round, but its peak is from spring to early fall. It can be found fresh, candied (crystallized), powdered and dried.
Nutrition: One ounce of raw ginger root has 22 calories, no fat, no cholesterol, no sugar, 1 gram of both protein and fiber, 2 percent of your daily vitamin C, 1 percent of your daily iron and is considered "strongly anti-inflammatory," according to nutritiondata.com.
How to store: Wrap fresh ginger in a paper towel, place in a plastic zip bag and store in the refrigerator for up to a month, according to Green. Alternately, the ginger can be put in a reusable storage container, covered with rice wine vinegar and kept in the refrigerator. Fresh ginger can also be frozen in a plastic bag for up to six months.
What do I do with ...?
Got a food the intimidates you? We'd love to hear what foods you'd like to know more about. E-mail Sarah Henning at shenning@ljworld.com.
Next food up? Winter squash
It's knobby, ugly and kind of unappetizing to look at, but science says it's absolutely one of the healthiest foods you can eat.
Ginger — the warm and spicy root that colors cuisine from Chinese to Jamaican, is more than just a tasty addition to sauces, stir-fries and desserts — is a health superstar.
While it's not significant in any one vitamin or mineral, ginger does have a knack for addressing a variety of ailments. Pregnant women know the wonder the spice can do for a bout of morning sickness, but ginger has also been studied as a natural answer to upset stomach and motion sickness in everyone.
Furthermore, ginger contains substances called "gingerols" that are anti-inflammatory compounds so strong they've been used in serious, clinical medical studies involving people with osteoarthritis or rheumatoid arthritis. Similarly, it has been researched as a possible fix for muscle pain.
Those gingerols also have been shown in research from the University of Minnesota to provide protection from colorectal cancer. And in another study at the University of Michigan, ginger extract containing 5 percent gingerol was shown to kill ovarian cancer cells through programmed cell death and self-digestion. But the science isn't strong enough for the American Cancer Society, however, which solely promotes the spice for, you guessed it, nausea stemming from some conventional cancer treatments.
As far as its culinary uses, ginger can be used fresh in a variety of cuisines, especially Chinese, Indian and Jamaican. It is native to Southeastern Asia, and was planted in Jamaica in an effort by Europeans to reduce its price by not having to import it from Asia. The Greeks were the first to make gingerbread, creating a recipe similar to our own according to Aliza Green, author of the "Field Guide to Herbs & Spices."
Today, one can find ginger fresh (sold in bumpy, firm "hands") dried, powdered, pickled and candied in the form of crystallized ginger. To use fresh ginger, peel it with a paring knife or vegetable peeler before grating or slicing the exposed root. The root's flesh can be any color from ivory to yellow, depending on the variety.
Miso soup with garlic and ginger
1 tablespoon unrefined sesame oil
1 yellow onion, chopped
2 tablespoons finely chopped ginger
1 tablespoon finely chopped garlic
6 cups vegetable broth or water
2 baby bok choy, trimmed and roughly chopped
1/2 pound carrots, thinly sliced
1 (8-ounce) package baked tofu, preferably Asian-flavored, thinly sliced
2 tablespoons red miso
2 tablespoons rice vinegar
1/4 cup thinly sliced green onions
Heat oil in a large pot over medium heat. Add yellow onion, ginger and garlic and cook until onions are translucent, about 5 minutes. Add broth, bok choy, carrots and tofu and bring to a boil. Reduce heat and simmer until vegetables are tender, 5 to 10 minutes more. Remove soup from heat.
Ladle about 1 cup of the hot broth into a small bowl. Add miso and stir until dissolved, then transfer mixture back to pot and stir well. Stir in vinegar, ladle soup into bowls and garnish with green onions.
— Recipe from www.wholefoodsmarket.com.
Pineapple-ginger rice with edamame
3/4 cup low-sodium vegetable broth
1 tablespoon finely grated ginger
2 tablespoons brown rice miso or light yellow miso
4 cups cooked brown rice
2 cups shelled edamame
1 1/2 cups chopped fresh pineapple
1/4 cup chopped cilantro
In a large, deep skillet, bring broth and ginger to a simmer over medium-high heat; simmer for 2 minutes. Remove skillet from heat and whisk in miso. Return to heat, add rice, edamame and pineapple, toss gently and cook until liquid is absorbed and rice is hot throughout, 3 to 5 minutes more. Stir in cilantro and serve.
— Recipe from www.wholefoodsmarket.com.
Yogurt-baked chicken
2 cups lowfat plain yogurt
2 tablespoons olive oil
1 heaping tablespoon minced garlic
1 heaping tablespoon minced fresh ginger root
1 teaspoon ground turmeric
1 teaspoon paprika
1 teaspoon ground cumin
1/2 teaspoon coriander
1/2 teaspoon cayenne pepper
1 teaspoon salt
1 prairie chicken, cut up (3-4 pounds)
Chopped fresh cilantro or parsley
To make marinade, combine yogurt, olive oil, garlic, ginger root, spices and salt in a large bowl.
Add the chicken pieces and turn them in the marinade to coat well. Cover and refrigerate 4-6 hours, turning the chicken parts in the marinade occasionally.
Remove chicken from refrigerator. Transfer the chicken parts to a large, foil-lined baking sheet. Heat oven to 425 degrees. Pour some (or all) of the marinade over and around the chicken. Bake 20 minutes on one side. Turn the pieces over and continue cooking for another 20 to 25 minutes, or until juices run clear when chicken is pierced where the meat is thickest.
— Recipe from www.organicvalley.com.
Poached halibut with ginger and cilantro
1 1/2 cups dry white wine
1 tablespoon finely chopped ginger
4 green onions, halved
Dash of tamari
2 tablespoons lime juice
4 (5- to 6-ounce) halibut steaks
Salt and pepper to taste
6 to 8 cilantro sprigs
1 lime, thinly sliced
Sliced avocados (optional)
4 cups cooked jasmine rice
Put wine, ginger, green onions, tamari and lime juice into a large, deep skillet and simmer over medium heat for 2 to 3 minutes. Season halibut with salt and pepper then arrange in skillet. Scatter cilantro over the top, cover tightly and gently simmer until halibut is cooked through, about 10 minutes. Toss limes slices and avocados over halibut and serve with rice on the side. Spoon poaching liquid over the fish if you like.
— Recipe from www.wholefoodsmarket.com.
Fresh fruit with ginger
Ginger root, 2-1/2- to 3-inch piece
1 cup boiling water
2 cups water, room temperature
2 cups sugar
6 oranges, peeled and sliced 1/2 inch thick
1 ripe cantaloupe or other variety melon, peeled and cut into 1-inch cubes
1 ripe honeydew melon or other variety melon peeled and cut into 1-inch cubes
1 bunch red seedless grapes (about 1 pound)
1 quart strawberries
12 slices crystallized ginger, finely chopped
Process the fresh ginger to a fine mince in a food processor with the steel knife. Place the minced ginger in a small bowl and add boiling water. Let stand for 30 minutes.
Heat 1 cup water and 2 cups sugar in a small saucepan on the stove or in a glass bowl in the microwave until the sugar dissolves. Stir in 1 cup water. Strain the liquid from the ginger water into the sugar water. Press the ginger against the strainer to squeeze out all flavored liquid. Discard the ginger. Place the ginger-sugar water in the refrigerator to chill well.
Use a tall, clear glass bowl (a clear wine cooler is perfect) and press the orange slices against the glass in a row around the bottom. Put the cantaloupe and honeydew chunks and grapes in the center to hold the orange slices against the glass. Fill to the top of the orange slices. On top of the orange slices, arrange a row of strawberries against the glass. Again, place melon chunks and grapes in the center to hold the strawberries against the side. Sprinkle on about a quarter of the crystallized ginger. Arrange another layer of orange slices against the glass about the row of strawberries and fill the center with melon and grapes. Sprinkle with another quarter of the crystallized ginger. Continue layering until the container is filled. Cover the entire top with strawberries packed close to each other and sprinkle with any remaining crystallized ginger. Pour the cold ginger-sugar water over the fruit. Cover with plastic wrap and refrigerate overnight and until ready to serve.
— Recipe from www.melissas.com.
Crystallized ginger cheesecake
Crust
Graham crackers, finely crushed
Cheesecake
1/2 teaspoon ground ginger
24 ounces cream cheese
4 large eggs
1 teaspoon vanilla extract
1/4 cup sugar
1/2 cup chopped crystallized ginger
Topping
1 1/2 tablespoons ginger root, grated
16 ounces sour cream
1 tablespoon sugar
1 teaspoon vanilla
Make crumb crust according to package directions. Line bottom and sides of 9-inch springform pan with crumbs, pressing down firmly to form a crust. Set aside. Preheat oven to 350 degrees.
Beat cream cheese with an electric mixer until fluffy. Add eggs, one at a time, then vanilla, sugar, crystallized and fresh ginger, beating on low speed until each ingredient is incorporated. Scrape down bowl between ingredient additions.
Put springform pan with crust in a shallow baking pan. Pour filling into crust and bake in baking pan (to catch drips) in middle of oven 45 minutes, or until cake is set 3 inches from edge but center is still slightly wobbly when pan is gently shaken. Let stand in baking pan on a rack 5 minutes. Leave oven on.
Stir together sour cream, sugar and vanilla. Drop spoonfuls of topping around edge of cake and spread gently over center, smoothing evenly. Bake cake with topping 10 minutes.
Run a knife around top edge of cake to loosen and cool completely in springform pan on rack. (Cake will continue to set as it cools.) Chill cake, loosely covered, at least 6 hours. Remove side from pan and transfer cake to a plate. Bring to room temperature before serving. Cheesecake keeps, covered and chilled, 3 days.
— Recipe from www.melissas.com.
Chocolate chai
1 1/3 cups water, boiling
3 tea bags
1/4 cup sugar
2 2/3 tablespoons cocoa powder
5 1/2 cups whole milk
2 teaspoons vanilla
1/3 teaspoon cinnamon
1/3 teaspoon ginger root
1/3 teaspoon cardamom
2 cups heavy whipping cream
Pour the boiling water over organic black tea bags in a large saucepan. Cover and let stand 4 to 6 minutes. Remove tea bags. Stir in sugar and cocoa powder. Cook and stir over medium heat just until mixture just comes to boiling. Reduce heat. Stir in milk, vanilla, cinnamon, ginger, and cardamom; heat through. Do not boil. Carefully pour into mugs. If desired, top with a dollop of whipped cream.
— Recipe from www.organicvalley.com.
Maple Gingersnaps
4 tablespoons unsalted butter, softened
3/4 cup white sugar
1/4 cup granulated maple sugar
1/4 cup eggs
1/4 cup pure maple syrup
1 1/2 tablespoons apple cider vinegar
1 teaspoon vanilla extract
1 1/2 teaspoons fresh ginger root, grated, peeled
2 1/4 cups flour
3/4 teaspoon baking soda
1 teaspoon ground ginger
1 teaspoon ground cinnamon
1/4 teaspoon ground cloves
Bottled maple cream (or substitute powdered sugar icing flavored with maple syrup)
Cream butter and sugars thoroughly in a large bowl. Beat in egg. Stir in syrup, vinegar, vanilla, and grated ginger root.
Sift flour, baking soda, ground ginger, cinnamon, and cloves in a separate bowl. Stir dry mixture into wet mixture until a soft dough forms.
Roll dough into four logs, each about 1 1/2 inches in diameter. (Use flour on hands to prevent sticking.) Wrap in wax paper and freeze until firm, two or more hours.
Heat oven to 375 degrees. Grease cookie sheets. Slice 1/4-inch rounds from logs and place them 1 1/2 inches apart on cookie sheets. Bake 9-10 minutes. Cool on wire racks.
When cookies are cool, frost them with maple cream. Store airtight.
— Recipe from www.organicvalley.com.
More like this story on Lawrence.com