Wednesday, September 15, 2010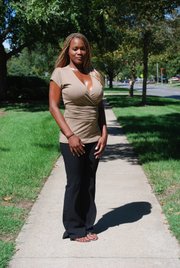 Age: 42
Sign: Capricorn
Occupation: Nurse assistant
Hometown: I was born in Florida but raised in
Salina.
Time in Lawrence: Seven years.
What were you doing when you were scouted? Meeting my boyfriend downtown.
How would you describe your style? Classy and fun.
What are your current favorite fashion trends? I like the skinny-jean trend, stiletto high heels and shoes from Baker's.
What are your least favorite fashion trends? Colors that are too wild and too loud.
What would you like to see more of in Lawrence? Live music and good restaurants.
What would you like to see less of in Lawrence? Drinking and driving.
Do you have any fashion influences? I have many, varied fashion influences, including Marie Claire, Essence, Cosmopolitan magazines for their fashion coverage and designer Vera Wang for her fashion designs and personal style.
Do you have any piercings or tattoos? No.
People say I look like: Actress Robin Givens of "The Cosby Show" and "Head of the Class."
Tell us a secret: I have nothing to hide.