Wednesday, September 15, 2010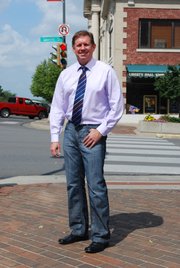 Age: 51
Sign: Sagittarius
Occupation: Lawyer, teacher, writer
Hometown: Waverly, Iowa
Time in Lawrence: Off and on since 1977.
What were you doing when you were scouted? Heading to work at my office downtown.
How would you describe your style? Different, distinctive and anti-fratty.
What are your current favorite fashion trends? I'm generally indifferent to fashion trends, but I like to choose individual items carefully.
What are your least favorite fashion trends? No real least favorites, primarily because I don't know that much about fashion.
What would you like to see more of in Lawrence? Hope.
What would you like to see less of in Lawrence? Despair.
Do you have any fashion influences? Don Draper from "Mad Men" looks fly. I'm easily influenced because Jon Hamm is a dyed-in-the-wool fan of the St. Louis Blues, my favorite hockey team.
Do you have any piercings or tattoos? No comment.
People say I look like: My father and/or my five children.
Tell us a secret: I recently started collecting linotype letterpress figures.
More like this story on Lawrence.com