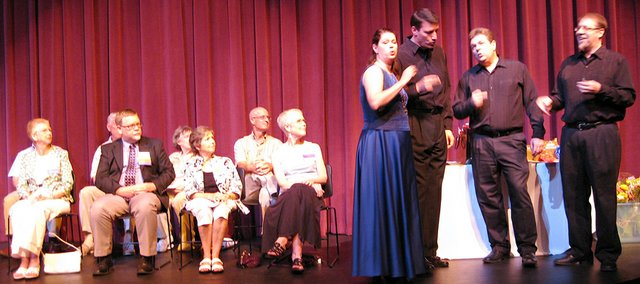 Thursday, September 16, 2010
New Play Festival
• "The Paludan Sisters: It's All Relative," 7:30 p.m. Thursday and Friday.
• "American Bear," 7:30 p.m. Thursday and Saturday.
• "Prop 8 On Trial," 7:30 p.m. Saturday.
Attendees can buy a single ticket for each show or a pass that grants admission to all three plays. Individual tickets to this 18-and-over event are $15 for adults and $12.50 for students and seniors. The multi-play pass is $30.
Tickets can be ordered by calling 843-2787 or at lawrenceartscente..., where the festival schedule is available.
With a short-term goal of expanding theatrical offerings for adults and the long-term dream of creating a repertory company, the Lawrence Arts Center launches its first full season of professional live theater this weekend.
Ric Averill, drama program director, says the idea grew from the center's desire to utilize an underserved talent pool and fill a niche in the downtown theater scene.
"We'd been getting more involvement at the Arts Center from adult actors in their 20s, 30s, early 40s who have been doing family theater with us," Averill says. "They expressed interest in having opportunities to do other theater."
The inaugural season will be a combination of original plays, new or off-Broadway works, and an old-fashioned family musical, "The Music Man."
"We pulled together a committee to look at what else we could be doing that would satisfy the whole spectrum of our constituency, and this is the area that we've done the least in," Averill says. "We wanted to provide something new, something different, something more along the lines of what the Unicorn Theatre in Kansas City might do. Things that have made a big splash."
Kicking off the season this weekend will be the New Play Festival, featuring three original, new productions.
"It's All Relative," playing today on the Mainstage, stars Lawrence natives and singers Kirsten Paludan of Lawrence, and her sister, Kari Paludan, who lives in New York. Described as "hilarious and heartbreaking, the show is a family scrapbook put to music, featuring a wide array of styles from ABBA to Gershwin, Danny Kaye to Joni Mitchell."
"It's what happens when two people grow up making music together and sharing family stories with each other, and reliving those moments in front of the audience's eyes," Kari Paludan says.
On Saturday is "Prop 8 On Trial," a real-life courtroom drama from Lisa Cordes and the Fishtank production company in Kansas City.
Thursday, Friday and Saturday continue the world premiere of "American Bear" by playwright Larry Mitchell, Arts Center staffer and founding member of the Sustainable Theatre Project in Austin shown in the Performance Studio.
Averill says the arts center has high hopes for the season and where it will lead.
"Our dream would be to have a small, professional rep company at the Arts Center with hired professionals, both community professionals and people from the outside," he says.

Past Event
Thursday, September 16, 2010, 7:30 p.m.
Lawrence Arts Center, 940 New Hampshire St., Lawrence
18+ / $30 - $12.50
Past Event
Thursday, September 16, 2010, 7:30 p.m.
Lawrence Arts Center, 940 New Hampshire St., Lawrence
18+ / $12.50 - $30
More like this story on Lawrence.com