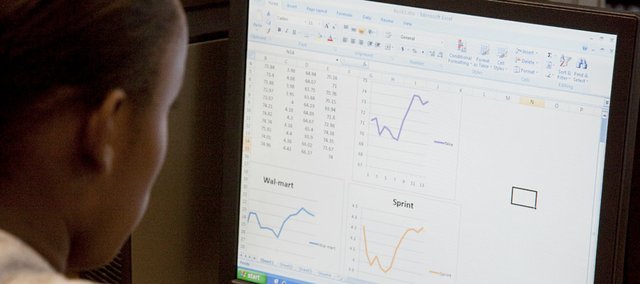 Thursday, September 16, 2010
Computers whir. Imaginations blossom.
Buying, selling, trading: Students in Stan Frantz' Introduction to Business class do it all each day, charting gains and losses on imaginary $10,000 portfolios of very real stocks they'd "bought" a few weeks ago.
Their goal is the same as everyone else's, especially among those who put their money to work on Wall Street.
"They can buy and sell at any time they want to," Frantz says. "At the end of the semester we'll see who made the most money."
Frantz' 19 ninth-graders at West Junior High School are busy learning marketing, finance, banking and other topics close to any businessperson's bottom line — all while building long-term interest in the basics of money management, personal finance and other monetary essentials.
Such lessons start early, advancing what certainly will be a lifetime of learning when it comes to handling, managing and, of course, making money.
"A lot of kids are just starting to get jobs, so they're interested in that," Frantz says. "They're thinking about maybe getting a car, and that kind of stuff. They're just starting to get interested in it.
"Hopefully this piques their interest and they'll follow up with more classes in high school."
Experts nationwide concede that teaching youngsters how to manage money can be difficult, especially as Americans grapple with shattered finances during the Great Recession.
Just look at the big picture: Only 55 percent of Americans had a savings plan with specific goals in 2010, compared with 62 percent in 2008, according to the America Saves campaign and the American Savings Education Council, which surveyed 1,000 people in February.
Experts say turning such numbers around will take an investment in the future through education delivered both in school and, especially, at home.
"You have to develop a measure of skill yourself in order to be able to model the behavior for your kids," says George Barany, director of financial education at the Consumer Federation of America, an advocacy organization. "Young people who save successfully learn to do so at home."
Families often take different approaches to establishing financial literacy among children. One father in Virginia gives each of his children allowances; if they don't spend their weekly allocations, he gives them more as a reward. He also expects them to give a portion to charity.
Programs such as Junior Achievement also put out reports that can be shared as discussions points over dinner.
But children also can learn from real-life experiences at home. Children often will sense whether a family is under financial stress, so sharing the reasons behind such struggles can help educate them about financial issues and their implications, says Laurie Blackburn, a certified financial planner.
"As hard as it is, you might have to be honest with the kids about your own financial struggles," says Blackburn, vice president for wealth management at McLaughlin Ryder Investments in Alexandria, Va.
— The Washington Post contributed information for this story.