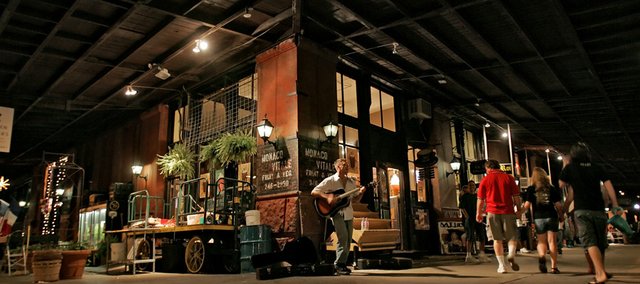 Friday, September 17, 2010
It takes three hours and 15 minutes to drive from Lawrence to Omaha — most of the route, cruise-control easy — making it the perfect destination for an overnight excursion, a weekend or, for intrepid travelers on a budget, a long day trip.
Here are some suggestions for places to go, things to do and creatures to see in each scenario.
Omaha in a day
If you're making it a day trip, do the zoo.
Omaha's Henry Doorly Zoo is a must-see and home to the world's largest indoor desert, nocturnal exhibit (aptly named "The Swamp") and an expansive rainforest that almost makes you forget you're not outdoors in the tropics.
Considered one of the country's best zoos, the park is laid out so many of the exhibits are close together. The Scott Aquarium, featuring a wildly entertaining Antarctic penguin exhibit (supplied by four snow-making machines) and walk-through shark tank, is next door to the Butterfly and Insect Pavilion that abuts a giraffe complex where guests get up close (and almost too personal) with the long-necks.
On the other side of the park are the rhino, elephant and sea lion exhibits, which you can get to on foot, by tram or Skyfari, a chair lift providing bird's-eye view of the entire zoo.
In the center of the property is Exhibition Madagascar, a new indoor-outdoor exhibit with fish, reptiles, fossa and lemurs on display. A 6,700-square-foot netted area features man-made trees linked by vines, allowing visitors to photograph ruffled lemurs without obstruction.
When your stomach starts growling louder than the snow leopard, head over to Durham's TreeTops restaurant overlooking the Lied Jungle's rainforest, hit one of the many concession stands or enjoy your own spread at one of several picnic areas in the zoo.
After lunch, relax in the Lozier Imax Theater and take in a show or treat your inner child to a ride on Sue's Carousel next to Dairy World before heading home.
Overnight excursion
After the zoo, head north on 10th Street to the Old Market area with its brick streets and unique shops and restaurants all housed in charming 19th century warehouses. Many of the city's best eateries are here, including Vivace at 1108 Howard St., M's Pub at 422 S. 11th St., and the Upstream Brewing Company, 514 S. 11th St.
For carnivores wanting to try a famous Omaha steak, check out Spencer's for Steaks and Chops at 102 S. 10th St. (don't deny yourself their signature "loaded" hash browns), Omaha Prime at 414 S. 11th St., Passport at 1101 Jackson, or Omaha tycoon Warren Buffett's personal favorite, Gorat's, a short drive away at 4917 Center St.
After dinner, take a short drive to the Bob Kerrey Pedestrian Bridge, gracefully spanning the Missouri River from Nebraska to Iowa. The cable-stay construction gives you an airborne feeling as you admire the view of downtown.
When it's finally time to retire, lodging options abound in the Old Market area, including Courtyard by Marriott (101 S. 10th) with some rooms offering private balconies with Old Market views, Embassy Suites (555 S. 10th), Hilton Garden Inn (1005 Dodge St.) and the historic Omaha Magnolia Hotel (1615 Howard).
If you dare, stop for a nightcap on the deck at Rick's Café Boatyard on the riverfront next to the City Marina and the River Walk, where there's live jazz and always a party.
For breakfast next morning, take a pleasant walk to WheatFields Eatery & Bakery, 12th and Howard in the Old Market, named the best place for breakfast in the Midwest by Midwest Living Magazine in 2007. Everything is baked on-site and made from scratch here. Have the Dungeness Eggs Benedict. Just do it.
Make a weekend of it
If your plans allow you to stay two nights, Omaha offers activities for every interest:
Artsy types shouldn't miss the Joslyn Art Museum, 2200 Dodge St., which features pieces from Monet, Degas, Pollack and Renoir. But, the building itself is work of art, built of pink marble and more than 38 different marbles from all over the world. At the Hot Shops Art Center, 1301 Nicholas St., you can watch more than 80 artists blow glass, throw pots, cast in bronze and otherwise create. Then, get hands-on yourself and make your own masterpiece to take home as a souvenir.
History buffs will enjoy the Durham Museum, 801 S. 10th, in Omaha's lovingly restored Union Station. Aviation fans can examine 30 vintage military planes in the Strategic Air & Space Museum, (Interstate 80, Exit 426). Train enthusiasts will love the Union Pacific Railroad Museum located in the old Carnegie Library in downtown Council Bluffs, Iowa, (200 Pearl St.) just over the river. And for the kids, the Omaha Children's Museum, 500 S. 20th St., offers a kid-sized grocery store, fire rescue area, a giant ball machine and more.
The Heartland of America Park, Eighth and Douglas streets, features a spectacular fountain that shoots water 300 feet high and lights up at night, World War II and Airborne Memorial sculptures and a pedestrian bridge connecting to Lewis and Clark Landing where you can take a romantic gondola ride.
Omaha boasts shopping venues and golf courses, riverboat rides, live theater venues and an extensive system of walking trails and birding "hot spots." All of these things, and more, can be found on the city's convention and visitor's bureau website: visitomaha.com.
If you don't mind rubbing elbows with the occasional red-wearing Nebraska fan — this is Cornhusker country, after all — a visit to Omaha is well-worth the trip, be it for a day, night or weekend stay.
More like this story on Lawrence.com