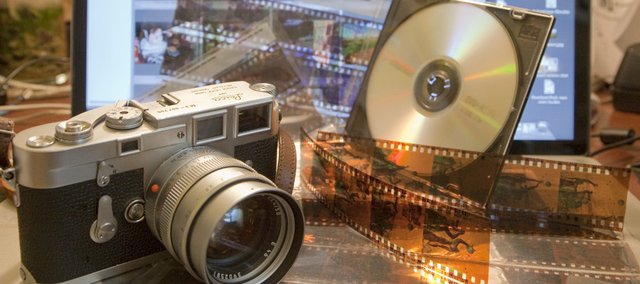 Sunday, September 19, 2010
As you read this I'm somewhere on the Cowley County Fairgrounds in Winfield, enjoying some vacation and photographing at the Walnut Valley Music Festival. And I'm shooting with film, not digital.
Word around the Internet photography community is that film is making a comeback. Anybody remember film?
They still manufacture film and sales are up. I have three reasons for trying film right now. First, I have a great old Leica M3 rangefinder camera that I want to work with again. Secondly, I found a photo lab that does large scans of negatives. Lastly, I want to compare the results of scanned negatives to digital photo files.
The biggest problem with shooting film is that it requires a darkroom to make prints or a film scanner to digitize your negatives. Digital cameras skip that step, enabling you to get your image files directly to a computer. Once on your computer you have multiple outlets for your photos.
Photo labs at CVS, Walgreens, etc., can develop your film, provide prints and also scan images on a CD. But in doing some research I found that these scans are low resolution and sized only for producing additional 4-by-6-inch prints. If small prints or digitized images for your Facebook or Flickr site are all you require, this service is great. And at about $3 a roll it's a good deal.
But to get the very best quality from negatives, outside of a darkroom, you need to buy a quality film scanner or find a lab that will do larger scans. Enter North Coast Photographic Services.
I discovered NCPS on a photographer's website review. NCPS can provide 35mm "enhanced" scans of 3339-by-5035 pixels for $11.95/roll at the time of development. Development is $5.49/roll. No, it's not cheap, but it provides you with 48mb files with potential print sizes of 17-by-11-inches at 300 dpi. A "budget" scan for half as much provides a file capable of an 8-by-10-inch print at 300dpi.
This is a great option for people who enjoy shooting with film or have good film cameras moth-balled in a closet. It takes a big investment to buy into a digital camera system and even then technology changes so fast that systems become outdated. My M3 Lecia was built prior to 1966 and is still one of best cameras ever made. To have the option of shooting film and getting the images digitized is like having the best of both worlds.
Next week I'll write about the pros and cons of my film experience. Meanwhile ... Got film?
•••
Later this month and in early October, Lawrence photographer Tim Forcade and I will be offering a class on creating your own photography or art book using on-demand printing services. This will be the first in a series of classes aimed at photographers looking to learn new skills and become better at their craft. Contact Tim (tim@forcadeassociates.com) or myself for more details and dates.