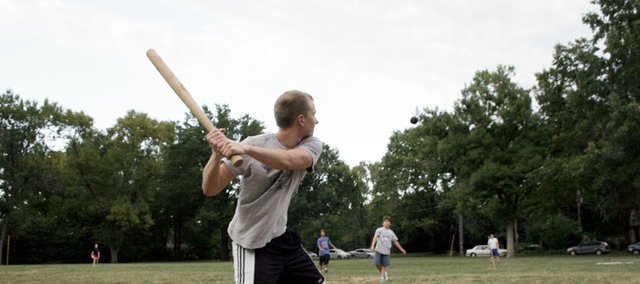 Sunday, September 19, 2010
A quick primer on Town Ball
Time for a quick primer.
Town ball is much like current-day baseball, with some major exceptions:
• There is no limit to the number of players on each team.
• The ball is softer than a traditional baseball, and the bat is tapered less than a current-day baseball bat. Bases are broomsticks shoved into the ground.
• The striker (aka, the batter) stands between first and home bases.
• There are no balls and strikes. The striker stands in until he or she hits the ball.
• There are no foul balls. A strike in any direction is live.
• The only way to get a runner out is to catch the ball hit by a striker, or to "plug" a runner by hitting him or her en route to a base.
• There are no lead-offs or rounding bases.
• Base runners don't have to go directly to their next base. If they run off the base path, they're dubbed a "wild weasel."
Luke Giefer rounds third and taps the broomstick as the throw comes in late.
"Tally!" he yells. His tally ties the game for the Polks against the Fillmores. Teams, tonight, are divided up with the names of lesser-known presidents.
"Huzzah!" Synthia Somerhalder hollers in reply, marking down the score.
•••
This is town ball. It's similar to baseball, but just different enough to draw quizzical looks from students walking home through the neighborhood west of the Kansas University campus.
It's been a regular game each Tuesday evening since the spring, when a KU history professor sparked interest in just the right group of students.
"It's really serendipitous," says Somerhalder, a KU senior from Burlington who helps organize the loosely knit league. "Town ball has become more than just a game."
Indeed, the game has drawn friends of friends from that original class, as well as children and adults from the neighborhood surrounding Water Tower Park, 1225 Sunset Drive.
Town ball figures into the history of baseball, though its exact origins are debated. It's related to the English game of rounders, also a precursor of baseball. Town ball was played in the 19th century, especially in New England.
Abraham Lincoln used to play town ball.
•••
Somerhalder, standing in as thrower, tosses a ball toward the striker. The striker swings but misses.
"I felt a gust of wind," she says in a taunting-yet-playful voice.
•••
These town ball games started as part of Jonathan Earle's American culture class at KU. Once a semester, he has students play the game instead of holding a lecture, to help teach them about how recreation has changed in America through the years.
Earle himself was introduced to town ball by fellow history professors in California, who play the game on a semi-regular basis.
He figures the game harkens to the days of good sportsmanship and community involvement. Back then, nobody paid to watch. Nobody took steroids. Women and children played alongside men.
"I think it's nostalgia," Earle says. "They can learn about how leisure changed."
•••
Two youngsters are on the basepath when they realize they're in trouble. One runs to the outskirts of the park. The other hides behind a tree.
"Wild weasel!" the defense screams.
•••
Sarah Bassett pushes her 3-year-old son on a swing until it's her time to bat.
She leaves him there, and another player resumes the swinging.
"I don't want to say it's nostalgic," she says of the town ball games. "But it has an aspect of a leisurely summer that doesn't really exist anymore."
•••
Nobody knows for sure who will show up each Tuesday night.
It might be a dozen people. They've had as many as 30.
"You don't always know who's going to play," says Madeline Johnson, a KU senior from Overland Park, "so it has a community feel."
And when they need extra players and invite someone off the street, it's no big deal.
"We go pretty easy on the new guys," she says. "We have a competitive spirit, but not too much."
Indeed, Hannah Ballard, who was part of the original town ball class, says athletic ability is not a precursor to success. That first class included a row of KU baseball players who didn't attend the first town ball game, she says.
"Most of the jocks didn't show up," she says. "When we get together, we say no athleticism is required."
For some former athletes, the town ball game is a good outlet for their skills. Giefer, a KU senior who played baseball in high school but not since, says he's enjoyed the friendships town ball has created.
"I like this style," he says. "It's pretty relaxed. I like everybody who plays. It's easy to play week to week. You don't have to practice."
Earle, the KU professor who started the group and still occasionally plays, has slightly more competitive hopes for Lawrence town ball.
"I want to spread the gospel of town ball," he says. "I'm thinking a Eudora vs. Lawrence town ball league. I think we could take De Soto."
More like this story on Lawrence.com