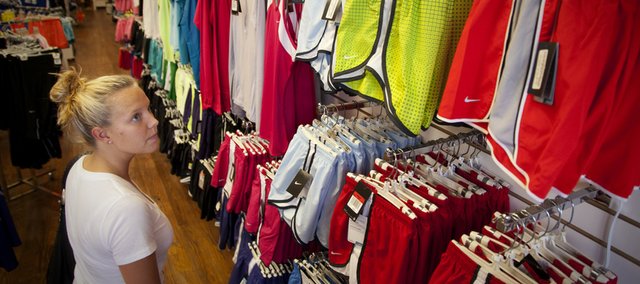 Monday, September 20, 2010
When Betsy Joy arrived as a freshman to the University of Oklahoma in 1957, she came wrapped in a sweater, skirt and pearls.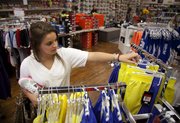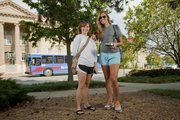 Eileen Schartz wasn't allowed to wear slacks to class at Atchison's Mt. Saint Scholastica in the mid-1960s.
Jackie Bunnell spent the early '70s at Kansas University ensconced in homemade clothes, including bellbottoms and "granny" dresses.
For Tara Nelson, college life in the 1990s at the University of Northern Colorado consisted of topping a grungy look — plaid, jeans, Birkenstocks sandals — with a Bonne Bell Lip Smacker and heading to class.
Campus fashion through the ages is nothing if not consistently inconsistent. But it is what it is: a microcosm of what's going on at the time.
"There's a lot of sartorial diversity on campus, but generally speaking, I think campus fashion is a more casual, comfortable version of current trends," says Lawrence's Katy Seibel, the blogger behind www.kansascouture.com.
The shorts
Today, the height of campus fashion happens to be the running short. And not just any run-of-the-mill jogging apparel, but two certain styles of Nike running short, the basic Tempo and the sleeker Pacer, both of which are flying off the shelves at Garry Gribble's Running Sports, 839 Mass., says employee Tyson Willoughby.
"When we first opened, we just had a few of them, just boring colors, and then we noticed that they're gone, they're gone, they're gone," Willoughby says, snapping his fingers to emphasize the rapid pace. "We got 200 units in yesterday and we'll be sold out of those before the end of fall."
The store sold more than $8,000 worth of the shorts in July alone, and at $28 a pair on average, that's quite a bit. So much so, in fact, that as a matter of shorts, the smaller Lawrence store sells more of the Tempo and the Pacer than the chain's two biggest Kansas City stores combined.
'The exact same outfit'
Who's buying all those shorts? Girls like Gillian Schulman, a Kansas University sophomore from Miami, who admits to having about 20 pairs of the running shorts.
"I like them for them gym and I just like them in general, they're just comfy, light-weight shorts," Schulman says. "I like wear them for everything."
And so do all her friends.
"My friend, I was walking with her on campus, and she was wearing, I think, green ones maybe and a white T," she says, "and another girl was wearing the exact same outfit."
That need to look exactly the same is something that hasn't been lost on Mary Anne Jordan, the chair of the visual arts department and professor of textiles at KU. She says she believes that students these days are more plugged into fashion and brands than she was as an undergrad at the University of Michigan in the late 1970s.
"Kids pay attention to fashion designers a lot," Jordan says. "And, I think there's so much exposure to what's going on, it's probably more prevalent now than it used to be to just be more homogenous, really."
Both Jordan and Seibel agree that despite the style changes on college campuses over the last few generations, one constant keeps nearly the entire population of college students both past and present looking the same: comfort. Which, if you recall was one of Schulman's main motivations for owning a closet full of brightly colored shorts.
"Of course there are extremes — those who dress to the nines for class and those who schlep around in pajamas — but I think pretty much all students want to be comfortable," says Seibel, who says that jeans were her go-to comfort clothing while attending KU from 2004-2008.
And like being comfortable, Bunnell says the generations may have more in common than meets the eye, even if her homemade bellbottoms would never fly with today's underclassmen.
"I think each generation has it's own version of 'sloppy look.' And each generation has its own version of 'racy look.' Now with the girls, its the extreme short shorts and we all had our version of that, too," Bunnell says, laughing. "So, I think no given generation is unique. I think that it ends up being expressed in a slightly different way, but the theme is still the same."
More like this story on Lawrence.com