Monday, September 20, 2010
Well, the cake didn't end up as bad as I thought it would when I was in tears at 3 one morning in the Checkers' checkout line.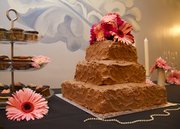 I was the girl, eyes welling up with tears, forced to wait four extra minutes to purchase raspberries and preserves because the system had to reboot. Mini-meltdown in the making.
That was day three of the five-day process of making the cake. The day of leveling. Right before I went to Checkers, there was a lot of swearing and may or may not have chucked the cake leveler at the counter out of frustration a time or two.
The cake: a day-by-day breakdown
Read more about the whole cake-making process here.
But I persevered.
It's been a crazy few weeks. A whirlwind of baking. Two weddings. Eight pies. Three dozen cupcakes. The wedding cake. And, of course, a few tears.
But everything turned out well. The cake, despite the mini-meltdown in Checkers, was a hit. I was happy with how it turned it out. The bride and groom liked it. I received a lot of compliments. And I felt like a mini-celebrity at the wedding.
The cake was chocolate with raspberry filling and chocolate buttercream. Although I didn't get to taste it, I hear it was pretty delicious. But I'm not going to lie. I did have a lot of the frosting while making it. That's my favorite part.
Oh, and I had some of the cake that stuck to the bottom of the pan. That happened a lot, actually. I lost a good three layers that way.
It was all one big learning experience. So instead of sharing with you the recipes I used or give you a step-by-step breakdown of what I did, I'm going to share with you a few things I learned. About caking-making. About myself. About life. It'll be funnier this way.
1. Parchment paper is my friend.
For my practice run, I didn't have a lot of problems with cake sticking to the pans. I used some cake release stuff and a few non-stick circles for the big layer. It worked out fine, so I went with the same method for the real deal. It took me losing three layers before I learned my lesson. Parchment paper is necessary.
But don't worry, all was not lost. My friends and coworkers were able to enjoy the rejected cake. In pieces and all.
2. Maybe I shouldn't be allowed to see the bride before the wedding day.
The bride and groom are good friends of mine. They also live in the same apartment complex, so I saw the bride quite a few times while I was making the cake. It dawned on me, after telling her all that was going wrong, that maybe I should have lied. Maybe I should have just told her things were going swimmingly.
But that's just not me. You may not know why I'm in a bad mood, but you know when I'm in a bad mood.
Thankfully, this bride was a cool as a cucumber and knows me well enough not to panic.
3. Frosting fixes everything.
A layer starts to crack. Seal it with frosting. A little chunk falls off. Fill it with frosting. One side looks a little off. Add a little extra frosting.
Everything seems to be going wrong. Eat a little frosting.
4 . I need more support than the cake.
The wooden dowels did just fine holding up the cake tiers. I, on the other hand, was a mess at times, as I'm sure the other customers at Checkers realized. But thankfully, I have good friends who believed in me, let me vent and assured me everything was fine and level.
They even reminded me that, although the cake stuck to the bottom of the pan, that it still tasted just fine.
5. I would do this again in a heartbeat.
You might think I'm crazy after reading about all the tears and frustration. But I liked the challenge. I liked the feeling of contributing to the couple's celebration.
And now I know I can do it. Even when things don't start out going so well.
It's a little bittersweet that's it's over. This what I've been practicing for. This is what I started blogging for.
But I'm hoping this is just the beginning.