Monday, September 20, 2010
When Amy Ballinger went to garage sales and auctions in the early '90s, she had no idea her fun pursuit would lead to a business. She operated Amy's Attic from 1998 to 2004 and now co-owns Locust Street Market at 700 Locust.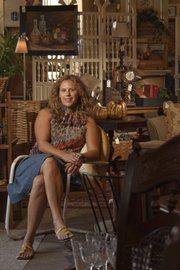 Born in Hutchinson in 1969, Ballinger loved living in the countryside where her free spirit developed.
"I loved being a child and lived in a make-believe world most of the time," she admits.
"I was never a Barbie girl. I loved home-made forts and enjoyed a plethora of animals — dogs, cats, bunnies, peacocks, cows, horses, even a monkey. I loved to explore, pretend, get muddy and dirty, and swim in any water I could find — cow ponds, drainage ditches, and the pool and lake whenever possible."
Ballinger graduated from Nickerson High School in 1987, enrolled at Kansas University, met husband Rick in 1989, when he came for a haircut at Command Performance where she worked as a receptionist, and married in 1990.

She continued working full-time, had her first child, and graduated with a bachelor's degree in journalism in 1992.
After giving birth to their second child she and Rick became licensed foster parents and provided emergency and long-term care for nearly 30 children. When she decided to open a business to supplement the family income, she searched for something flexible to fit in with her family responsibilities.
Ballinger found the building first, then pondered its use.
"Rick and I loved going to garage sales and auctions and knew there was a niche for unique, quality used-furniture in Lawrence," she says. "I opened Amy's Attic in June 1998."
She did the rounds of auctions, opened the store six days a week, and worked hard to balance work, family life and her fostering responsibilities.
"Many times I'd justify taking the kids to auctions, keeping them at the shop till late at night with the mindset we were all together as a family," Ballinger says.
"They handled it very well, and I believe their great character was fostered from early experiences with the shop. It was a struggle devoting quality time to just kids and family, because the business was all-consuming and challenging in the early years."
Ballinger's third child arrived in 2002, and she knew simply cutting store hours wasn't a viable option.
"After careful, prayerful consideration, I knew it was time to close and become a stay-at-home mom," she says. "I was passionate about my business but knew family was infinitely more important."
Four years (and fourth child) later she joined other vendors to open LSM. In 2008, she and Amy Mumford relocated to the original newly remodeled Amy's Attic building and committed to a long-term venture. In addition to selling furniture, they offer interior design consultations. The store opens Fridays and Saturdays only.
"I still love the challenge of hunting for unique and quality pieces, the competition of bidding at auctions, and running the business," Ballinger says.
"I want to devote quality, time and attention to all areas of my life, especially family, without watering anything down or short-changing anyone."