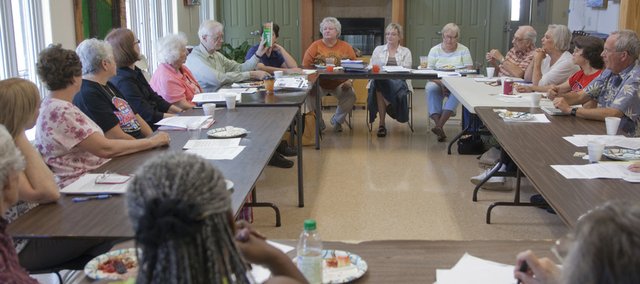 Monday, September 20, 2010
You don't have to be a published author to participate in the Kansas Authors Club annual convention, which will be Oct. 1-3 at the Lawrence Holidome.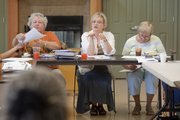 Recurring event
Holiday Inn Lawrence, 200 McDonald Drive, Lawrence
Not available / $88
"We're inviting anybody and everybody to come," says Diane Palka, convention chairman. "You just have to be interested in writing."
The convention kicks off Friday night with a silent action and an award ceremony for writers of high school age and younger. Beginning at 9:45 a.m. Saturday, the convention offers a full day of workshops on such topics as children's literature, self-publishing, historical fiction, haiku, novel and short story writing, sonnets, mystery, memoir and even songwriting.
Among the presenters will be Christine Taylor-Butler, author of more than 40 books for children, Gordon Kessler, author of "Novel Writing Made Simple" and two thriller novels, and Norm Ledgin, who wrote "The Jayhawker," a novel depicting the Kansas-Missouri Border War.
The day concludes with an awards banquet and keynote address by Nancy Pickard, author of 18 novels, including "The Virgin of Small Plains," which was named a Kansas Notable Book and the Kansas Reads Book for 2009. Her most recent novel, "The Scent of Rain and Lightning," is set in west-central Kansas.
Sunday kicks off with a worship service and a performance by the St. Luke AME Gospel Choir and offers two panel discussions.
Focus on diversity
The theme of this year's convention is "One Free Nation, Many Voices," and it's a celebration of diversity.
"We want to have something for everybody," says Elizabeth Black, president of District 2 of the Kansas Authors Club, which includes Douglas, Johnson and Franklin counties, among others, and is the host of this year's convention. The state is divided into seven districts, and each year the convention is held in a different one.
"I'm also very excited about something new we will be doing this year," Palka says. "There will be a clothes line to hang work out to dry. Everybody can bring their work and hang it with clothes pins so everybody else can read them and comment on them if they wish.
"It's a way to let others see your work and get a little feedback," she says.
Club history
The Kansas Authors Club was founded in 1904 by Dr. Henry W. Roby, who wrote poetry and specialized in homeopathic medicine.
Over the past 106 years the Authors Club has included among its members William Allen White, the Pulitzer-Prize-winning editor of the Emporia Gazette, Eugene Ware, a Kansas legislator whose poems earned him the name "Ironquill," U.S. Senator Arthur Capper and Margaret Hill McCarter, author of 19 books.
"The Club gives a lot of support for writers of all kinds," Black says. "We have poets, novelists, journalists, even technical writers.
"It's the camaraderie and support authors give to each other that makes the Authors Club so valuable," she adds. "I think just coming together to support one another and give each other advice is really important to keep the creative juices flowing."
Black estimates there are about 600 members of the club statewide.
It's been seven years since the Authors Club convention has been in the Lawrence area, Black says, and she's excited about the opportunity.
"We can show off our town," she says. "Lawrence is very writer-friendly."
More like this story on Lawrence.com