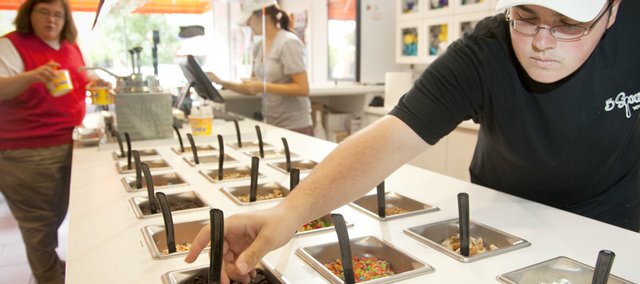 Tuesday, September 21, 2010
What's pink, brown and white all over? The inside of Vivian Moriarty's frozen yogurt dish.
It's strawberry yogurt with cheesecake and chocolate chips mixed in, to be exact. And it's from her new favorite place to get a sweet treat — 3 Spoons Yogurt.
Vivian's mom, Laura, brings Vivian, 6, to 3 Spoons any time she does well in school — or any time they just feel like a treat.
"It's her new favorite," Laura says. "She gets to make her own."
And that's the beauty of many frozen yogurt stores popping up. They're self-serve and pay-by-weight, so customers can get exactly how much they want. 3 Spoons Yogurt, 732 Mass., opened only a month ago but is already serving up some of the almost 140 million servings of frozen yogurt eaten each year in the United States. This store and a second, which will open in November, decided to do business in Lawrence, despite Yummy's Over the Top Frozen Yogurt closing earlier this year.
The frozen yogurt industry has been growing nationally, according to the NPD Group, which measures food consumption in the United States. The number of servings sold went up 2 percent in the last year, and there were almost 22,000 frozen yogurt stores nationally at last count.
Self-serve yogurt stores grew with the popularity of stores such as PinkBerry, of Los Angeles fame. The stores offer snacks with lower calorie counts than a typical ice cream cone, and a multitude of flavor combinations between yogurt and toppings. And people are eating it up — 74.1 million gallons in 2008.
Andrew Threlkeld, manager of 3 Spoons, said the frozen yogurt trend started on the West Coast and is slowly creeping to the East Coast, stopping in Lawrence on its way. The store offers up 14 different flavors of frozen yogurt, seven that are the same all the time and seven that rotate, such as pumpkin cheesecake, which will make an appearance around Halloween.
"Yogurt is pretty easy to work with, and you can do so much with it," Threlkeld says. "You can almost take any type of cake or candy and make yogurt, or there's a lot of great, old ice cream flavors."
The variety of toppings let consumers be in control of how healthy their yogurt is — fruit options are abundant, but gummy worms, sprinkles and cookie dough chunks are on the buffet as well.
"It always boggles me when we see people put three or four types of fruit on top, and then go over and put Snickers and Cap'n Crunch on top of that," Threlkeld says.
Hannah Jayne, a 19-year-old KU student, splits the difference — strawberry frozen yogurt with a few sprinkles and white chocolate chips on top. But she chooses yogurt over ice cream because it's the best of all worlds
"It's a healthy alternative," she says. "It makes it taste better."
Kevin Atwood of Shawnee is about to take the plunge and open a second frozen yogurt store in Lawrence at Sixth and Wakarusa streets called Orange Leaf. The franchise, which has more than 50 locations around the country, was a concept Atwood said he saw in Southern California and wanted to bring back to Kansas.
"We just thought it was a fun concept, the whole idea of the customer getting to choose exactly what they want," Atwood says. "They don't have to pay for extra toppings."
Atwood is aiming for the store to open in November. It will offer 16 flavors, with 14 standard and two rotating. Customers will have 36 toppings to choose from. Atwood is opening the business his wife. Before deciding on fro-yo, though, they had to decide if it was worth the risk.
"I think it has staying power for sure, just because it's a healthy alternative to what people like to eat anyways," Atwood says. "I think people are just going to continue to be more health-conscious."
For Alice, Lili and Ruby Hull, health is not their top concern. It's the girls' first time at 3 Spoons. They pick some wild combinations, like Lili's — chocolate yogurt with strawberries, marshmallows and gummy bears mixed in. But that's the best part, they say. They all chose their own flavor combinations, and all three dishes are as different as the girls themselves.

More like this story on Lawrence.com