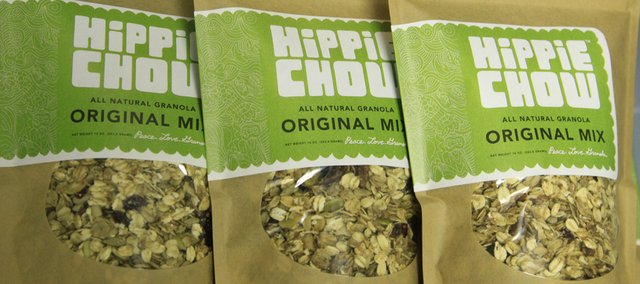 Tuesday, September 21, 2010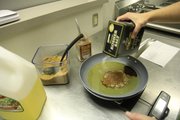 Overnight success is the stuff entrepreneurs dream of, but that wasn't on Valerie Jennings' mind when she stepped into her kitchen to make a batch of granola for her snack-loving boyfriend, Joe Parrish.
No, it was the mile-long list of ingredients on a bag of everyday snack mix he'd bought.
"I just casually picked up the bag and was reading the ingredients and I was like, 'I don't know what this stuff is.' It's really kind of scary. I said, 'Don't eat this, I'll make something for you,'" Jennings says. "So, I started making granola."
In just a few short months Jennings went from whipping up that first batch to owning a business with hundreds of loyal fans and a product on the shelves of gourmet retailer Dean & Deluca.
If that's not an overnight success story, what is?
But that is the true story of Hippie Chow.
Snack attack
It all started in July 2009, when after Jennings started tweaking the recipe for that first batch of granola until she had family and friends raving.
Soon, she began daydreaming about selling her product. A financial analyst living in Lenexa, Jennings, 28, was looking for a hobby that would take her mind away from the rigors of her job.
"One of us probably said, maybe you should just try selling it as a joke ... kind of like, 'Ha, ha, you should probably try and sell this,' because it was so good," says Parrish, who came home one night to find Jennings awake and excited because she'd thought of a product name. "She said, 'I want to call it Hippie Chow,' and I remember thinking ... 'Wow, that's actually a pretty good name. I like that.'"
Once she had the name, everything began to fall into place. Jennings was finishing up her MBA at Rockhurst in Kansas City and decided to use an independent study course to help write her business plan. By April, she was ensconced in the incubator kitchen at Building 21 of the Douglas County 4-H Fairgrounds, packaging her product for her first day at the Overland Park Farmers' Market.
Extension agent Susan Krumm tried an early sample of Hippie Chow while showing Jennings the kitchen, which is designed to help launch small food businesses. Krumm was impressed not only with the product, but also with Jennings' marking savvy.
"So often, people have this great idea, but marketing is not part of their forte," Krumm says. "She obviously has the marketing perspective down."
One lucky hippie
She's also had a bit of luck, too. The Dean & Deluca connection came just weeks into her debut at the farmers' market, when Jennings and Parrish attended a dinner function and met a food writer who was eager to talk up Hippie Chow to the general manager at the Dean & Deluca store in Leawood. By the next morning, General Manager Josh Hodapp called Jennings and asked for samples. Less than 24 hours later, she was told that not only did he want to sell her product, so did the whole company.
"He said he'd already run it up the flagpole with their corporate hierarchy and they wanted to put it in all their stores and put it online at their website," says Jennings, who uses local and regional ingredients in the granola. "My jaw just kind of dropped."
Ironically, Hippie Chow's success has thrown Jennings' business plan for a loop. Originally, she'd planned to branch out into Lawrence stores right away, but because of her deal with Dean & Deluca, she won't be able to make enough volume to get into Lawrence until the wintertime. That's when the farmers' market will be over and she'll have more time to devote to regional production.
So, for now, anyone in Lawrence interested in trying Hippie Chow's original blend or new chocolate or peanut butter flavors can buy it online at www.hippiechowgranola.com, Dean & Deluca's website, or in person the at the Overland Park Farmers' Market, Foo's Fabulous Frozen Custard and Dean & Deluca, both in Leawood.
The fact that the granola is anywhere but just in his lunch box is still a shock to Parrish.
"I told her if you'd asked me on May 1, which was our first (market) day, if I thought by August or September we'd be selling at Dean & Deluca, I'd be like, 'You're crazy,'" he says. "The success we've seen has been awesome."