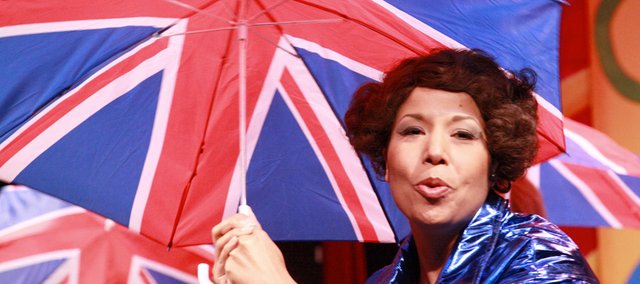 Friday, September 24, 2010
Baby boomers who grew up in the '60s might find themselves singing along with the performers of "Shout!," amazed at the lyrics they can remember.
"This is the music my sister said I had to learn or I'd never have a girlfriend," says Doug Weaver, director of the musical review opening tonight at Theatre Lawrence, formerly the Lawrence Community Theatre.
"There are five or six Petula Clark songs, Dusty Springfield and Lulu. Just a wide range of songs put together to tell the story of women coming of age in the '60s — coming to power, coming into understanding themselves, taking charge and taking control of their lives," Weaver says.
Dubbed "The Mod Musical," "Shout!" features five female characters, played by Genee Figuieras, Maggie Gremminger, Kayla Motley, Melia Stockham and Kim Scarbrough. Mary Baker serves as music director, and Barb Wasson is choreographer.
The review, created by Phillip George and David Lowenstein, includes hits like "To Sir With Love," "Downtown," "You Don't Have to Say You Love Me," "Son of a Preacher Man," "Wishin' and Hopin'," "Goldfinger" and, of course, "Shout!"
"The script is bare. It really just gets us from song to song, but they've picked the music so beautifully that there's a real story arc," says Weaver.
Wasson, another boomer, says it was fun to go back and explore a time when every dance had a name and every dancer, a repertoire.
"There were specific dances with songs that told us, 'We're going to do the Mashed Potato,' 'We're going to do the Locomotion,' 'We're going to do the Continental.' And the Freddy, we even have the Freddy in this," she says.
From the Frug to the Watusi, Wasson worked to include every dance from the era in her staging, so the audience would recognize the steps, even if they don't recall the names.
"I'll tell you the one that was really hard," Wasson says, "and that's the Boogaloo — at least the one I know, Boogaloo down Broadway. I remember working on it back then and thinking it was kind of counterintuitive. We do it in 'Preacher Man' and when the girls were learning it, they kind of had to work through it, too."
Gremminger, 23, the youngest member of the cast, says many of the songs were familiar to her.
"My mom always had Oldies 95 on in the van growing up," she says. "The second I found out what the show was about I was excited. I love this era of music, and I'm crazy for tight harmonies and really fun, upbeat songs. I don't consider myself a natural dancer, per se, but if I'm going to move, I love doing that kind of dancing."
Gremminger's favorite moment in the show is her solo shot at the 1967 Lulu hit "To Sir with Love."
"There are so many people who love that song, and it's written so beautifully. I feel like it's hard to sing it poorly because it's such a beautifully written piece of music," she says.
Weaver says there's a lot about "Shout!" for other generations to love.
"I take a backseat to no one in my love of the Stones, Led Zeppelin, the Beatles, all the great music that came out of the '60s," he says. "But, there's not one of those guys who wouldn't have given their eye teeth to sing 'Son of a Preacher Man.' That song just rocks and it moves and it's got every bit of the complexity of that the rest of them do."
More like this story on Lawrence.com