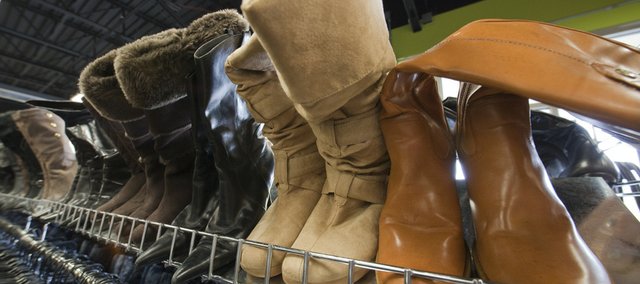 Monday, September 27, 2010
Shauwna Stover of Lawrence believes owning a closet full of boots is her inalienable right.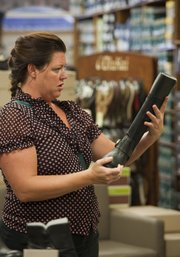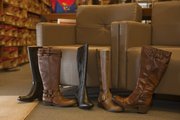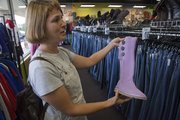 "I have about 18 pair," she says. "That's all I wear in the wintertime. I have flat cowboy boots and boots with heels. I have the little booties. The thing about women is, we have to have a pair of boots or shoes to go with every outfit. Men don't require as many shoes as we do. We require it. That's my story and I'm sticking to it."
Stover is riding a fashion trend this fall, thanks in part to the increasing popularity of skinny jeans and leggings.
Ryan Schwisow, manager of Brown Shoe Fit, 829 Mass., is anticipating a jump in boot sales this season.
"People are definitely buying more boots to tuck their jeans into," he says. "When I was doing my buy last spring for this fall, the majority of my companies that I deal with — Clark, Naturalizer, Timberline — told us that 50 percent to 60 percent of our buy for this season should be in dress boots. That's compared to 10 percent to 20 percent in previous years."
The weather doesn't hurt either.
"Last year, we had a nice cold, wet winter and dress boot sales skyrocketed," Schwisow says.
At Plato's Closet, a used-clothing store at 3514 W. Clinton Parkway, boots are popular.
"Any kind of cowboy boots we get in just fly off the shelves," says owner Anjelica Burris. "The Western influence is really big right now. Buckles, fringe, that's really in. Riding boots were really popular for us last year and continue to be in."
Burris notes that as her customers — typically teens and 20-somethings — embrace the skinny jeans look, they'll naturally drive boot sales.
"Now, it's all about showing off the boot," she says. "A lot of the styles allow just enough room to get the jeans in there, so you really can't wear a boot cut or a flare with them. Even older people come in say, "I don't really wear skinny jeans, but I need a pair to wear with my boots."
Love them or hate them, there is one brand that Lawrence fashionistas continue to demand.
"Uggs are still flying off the shelves," Burris says. "We're in the Midwest, so even though they've been around, they haven't been as attainable for people. A lot of girls buy them to wear on campus in the snow."
Schwisow adds that the popularity of Uggs has influenced the sales of other brands.
"There's been such a strong influence of Uggs over the last three to four years, (manufactures) are thinking that the ladies that were buying Uggs will buy dressier boots, as well," he says.
Boots are not built exactly like shoes, Schwisow notes. And a sporty boot should not fit the same on your foot as a dress boot.
"In a hiking boot, you always want to make sure you can take your foot and push it all the way to the front and put your fingers behind your heel, so you can have plenty of toe room when you're descending," he says.
"When you're fitting a fashion boot, keep in mind that they open up the instep to allow the foot to come down into it. You always will have a little bit of play in the heel — some natural slippage — until you get that broken in. A lot of people will end up sizing down half a size, for that reason, although I don't necessarily recommend doing that."
For Stover, a comfortable fit is nice and all, but that's beside the point.
"When you walk into a place and see something you can't live without, you're going to buy it. If the mortgage needs to be paid, by God, you're going to get those boots. They speak to you. Comfort is one thing, but I'm not on my feet a lot during the day. So, I can wear really high-heeled boots and all that good stuff."
More like this story on Lawrence.com