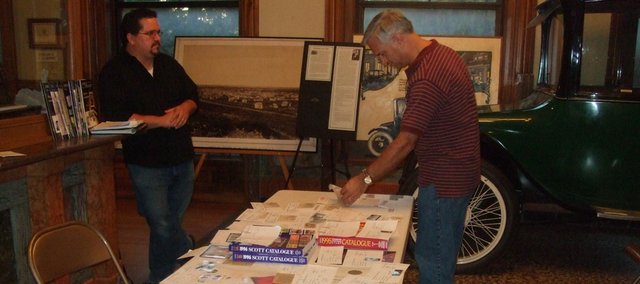 Monday, September 27, 2010
The Lawrence Stamp Club is opening its next meeting to the public for its first walk-in stamp consultation event, called Stamps in the Attic.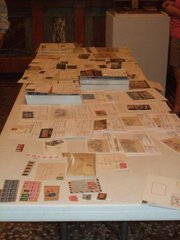 "We're not offering appraisals, we're just going to be here to field questions and see if it's worth pursuing," says Devin Zell, Lawrence Stamp Club's president.
The Oct. 7 event's purpose is to give community members a chance to show what stamps they've found, inherited, or collected and get an opinion on them.
Zell, of Lawrence, says he gets at least one e-mail a week from a community member asking if he can come over and appraise a stamp collection. He's hoping this event will help.
Kelli Sturm, of Lawrence, is the club's youngest member.
At 13 years old, Sturm says she already has hundreds of stamps in her collection.
"I got a bunch from my mom, like her repeats, and I add them to mine," she says.
Zell has seen many stamp collections, he says, and most are fairly common and not worth much. He uses stamp catalogs to estimate values most of the time.
"I've see collections that aren't anything special, and I've seen collections that make my eyes light up," Zell says.
To be really valuable, stamps usually have to be made before the 1920s, Zell says. Between the years 1851 and 1975, 1,500 stamp editions were printed. Between 1975 and 2008, 4,200 were made, making them common and thus less valuable, Zell says.

Zell says he has been collecting for more than a decade, although he's been a Lawrence Stamp Club member for just three years. He found the club online, he says.
He quit collecting during college, and picked it back up again with the encouragement of his wife after their son was born.


Zell says his wife doesn't share the interest. But for some club members, it's a family affair.
Sturm's mother and grandfather both also attend the monthly meetings, which are the first Thursday of the month at the Watkins Community Museum of History, 1047 Mass.
"Mom really likes stamps and I liked how they looked, so I started coming," Kelli Sturm says.
She says her grandfather, Hans-Peter Schultze, a retired paleontology professor from Kansas University, especially likes to collect dinosaur stamps.
Sturm gets many of her stamps at the meetings. During the club's Sept. 2 meeting, Sturm did especially well.
The meeting was an auction for club members to bid on and trade their stamps. Each member brought in something for a door prize pile as well.
Sturm called the door prize winners by drawing names, and most members gave her their winnings. She also bid on several stamps in the auction.
Buck Newsom, of Lawrence, also started collecting stamps because of a parent. His father was the president of Rotary International when he was younger.
"We used to get a lot of foreign mail, and we got a lot of foreign stamps," Newsom says.