Monday, September 27, 2010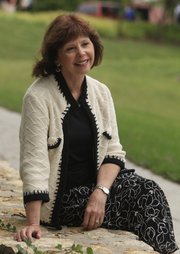 Diana Bartelli Carlin's passion for political process was nurtured in Pittsburg.
"My parents were first-generation Americans who lived through a Depression and war and understood the importance of voting," says Carlin, a communication studies professor at Kansas University.
"My mother was on the election board, and my father, a World War II veteran, took every Election Day off work to serve at the polling station," she says. "He took us (four daughters) with him, explained the voting process and let us play with sample ballots."
It's one of the reasons Carlin and her husband, Judge G. Joseph Pierron, are committed to Kids Voting.
"Research shows if lessons of democracy are modeled for young children, and if their parents vote, they're more likely to vote," Carlin says.
"KV is a program for parents and children. It helps build responsible, educated voters starting with kindergarten, and prepares young people to become engaged citizens."

Although Carlin's been politically active since childhood, she's never felt called to official political office. She's chosen to use her many talents and energy to help others become active, educated voters.
She graduated from KU with a bachelor's degree in English and speech communication in 1972, a master's in speech education in 1974, and taught at several Kansas high schools before embarking on her doctorate at the University of Nebraska-Lincoln.
"I loved younger kids but decided university teaching would allow me to pursue all my passions, including research, writing and voter education," Carlin says.
She joined the KU faculty in 1985 and, among other administrative roles, was dean of the Graduate School and International Programs. She's won many teaching awards, served on numerous local and national boards throughout the years, and remains active in the Lawrence Rotary Club, the American Association of University Women and the Kids Voting USA board of directors.
Carlin developed a national research project on presidential debates, DebateWatch, in 1996, and has served on the (U.S.) Commission on Presidential Debates' voter education programs in every election cycle since.
She has worked with the U.S. State Department and the International Foundation for Electoral Systems as a debate and voter education project adviser in many countries, including Afghanistan. Last spring, she organized the first candidate debates in the Republic of Georgia.
Carlin credits her boundless energy to good genes.
"I've been involved my entire life and have good role models. My 89-year-old mother works out 4-5 days a week and still volunteers," she says.
"I can't do any of what I do alone, so I ask for help, delegate and collaborate as needed. I have a supportive husband and family who pick up the slack at home and become involved in what I'm doing."
Carlin's excited about her involvement with Afghanistan's political education process.
"We're teaching the next generation of Afghan leaders, women and men, how to think critically, identify the complexity of issues, communicate as public speakers and resolve differences in a civil way," she says.
More like this story on Lawrence.com