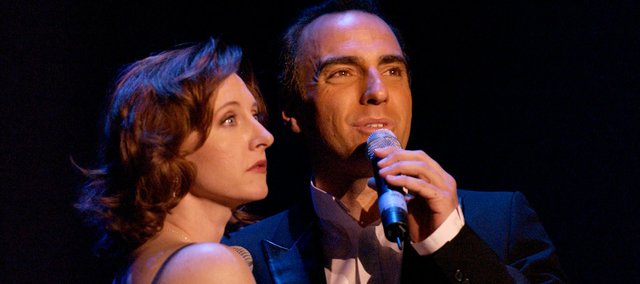 Tuesday, September 28, 2010
Past Event
Thursday, September 30, 2010, 7:30 p.m.
Lied Center, 1600 Stewart Drive, KU campus, Lawrence
All ages / $14 - $32
Come along and listen to the lullaby of Broadway. And do it without leaving Kansas.
On Thursday, a cast will don tuxes and gowns and stroll onto the stage of the Lied Center to perform "100 Years of Broadway." The concert is a compilation, composed by Neil Berg, featuring a collection of scenes and songs that made Broadway famous.
Four of the entertainers will be Broadway performers, singing songs they've performed on stages in New York.
"If you like Broadway music, this is the ultimate rock concert," Berg says. "The energy is just incredible."
Berg, creator and co-producer of "100 Years of Broadway," has immersed himself in music since he was a boy. A piano player since age 10, Berg never considered music as a career until college. The desire was always there, sure, but he was going to be a lawyer, where the money was.
The decision to make it a profession happened by accident. A fellow student asked him to collaborate on a musical called "Ghost Story," produced by the university. Berg composed the music, and, on the night of the performance, he felt a level of joy unknown to him. He was sucked into the craft. From that point on, he approached composition seriously, creating adaptations of the "Prince and the Pauper" and "The Man Who Would be King."
Wanting to create something that would both entertain and honor Broadway's rich history, Berg crafted "100 Years of Broadway." He's been taking the concert on tour for the past six years. The arrangement is a little more than two hours long, featuring pieces that run the gamut: "Jersey Boys," "Wicked," "Les Miserables," "Phantom of the Opera," "Grease."
The opening number leaps off with the famous "Give my Regards to Broadway," from the 1904 musical "Little Johnny Jones." And in between pieces, Berg relays snatches of Broadway's history, while hammering away at the piano.
"Neil will bring it to them, make them understand what they're watching," says Rita Harvey, a Broadway singer who performs in the concert. "His narration makes it much more accessible, gives the audience something to relate to."
Audience members will come out grinning, Harvey says.
"A lot of people are surprised at how much they enjoy it," she says.
One of the Broadway performers is Rob Evan, who has starred in both "Jekyll and Hyde" and "Les Miserables."
"There is a legitimacy to this," Evan says. "A lot of us were in the actual productions (we sing) on Broadway. So this concert will highlight some of those shows we've actually performed in New York."
And the variety may come as a surprise to some.
"Broadway is not just 'South Pacific,'" Evan says. "Green Day is on Broadway. There's a wide array of material on Broadway."