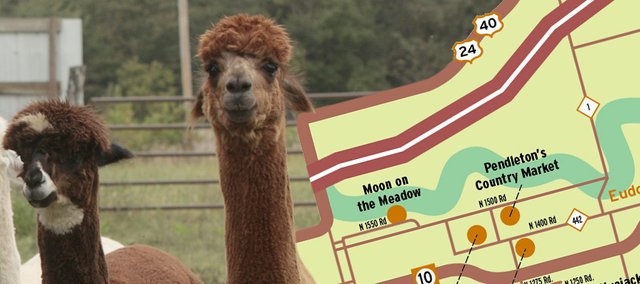 Wednesday, September 29, 2010
The Kaw Valley Farm Tour revs up for its sixth year with 21 farms open to visit Saturday and Sunday. Visitors are able to see everything from alpacas and bison to chickens and chocolate on the tour.
Here's a look at a few of the stops on this year's tour.
Ad Astra Alpacas
Possibly the cutest stop on the 2010 Farm Tour is Ad Astra Alpacas, the Baldwin City farm of Bob and Claudia Hey.
The Heys raise alpacas, the domesticated relative of the camel that looks like a small llama. Alpacas are prized for their long, soft hair, which is hypo-allergenic and suitable as an alternative for people who are allergic to wool.
The Heys have their alpacas shorn and the hair turned into socks, hats, sweaters and the like. But, this time of year, the animals are soft, furry and, well, cute, making them perfect for visitors.
"They can feed them. And, you know, I work with ours to make them approachable," says Claudia Hey, who allows guests to feed the animals. "They'll come right up to the fence to you, because they have kind of caught on that there will probably be a treat for them if they do that. And they do tend to really love children."
Screamin' Oaks
Roxane McCoy says she first got on the Kaw Valley Farm Tour four years ago to help teach the ins and outs of farm life.
"I thought it was a good opportunity to become a part of a growing group of people who are interested in promoting local producers by helping to educate the public about the various farms that have products in the immediate area available to them," she says.
So, it's no wonder that McCoy fully expects tour visitors to her Screamin' Oaks farm in Tonganoxie to get an education, though the subjects are a bit different that reading and writing. Among what she hopes visitors will learn:
There really are green eggs to go along with the ham.
Goats do not eat tin cans and everything else they come across.
Guinea fowl make great watch dogs.
How to properly hold your hand when feeding a pony.
How to tell whether a box turtle is a male or female.
McCoy's farm contains all the critters in question (goats, guineas, ponies, turtles), plus peacocks, for which the farm is named. She'll also have goat-milking, soap-making and wool-spinning demos and crafts to create.
Sleepy Jean's Confections
Jean Younger spends her day experimenting with flavors, shelling cocoa beans, spinning chocolate and everything else involved in the process of chocolate manufacturing.
After spending too many long hours in an office away from her family, Younger decided to transition from corporate attorney to self-taught chocolatier five years ago.
"I wanted to do something different," says Younger, who is on the farm tour for the second straight year. "I was ready to leave the corporate side and try something of my own."
Except for her undergraduate degree in chemistry, Younger started with no previous knowledge or experience in making chocolate. With research from several books and Internet articles Younger based her idea for a business on the philosophy of trial and error.
"Experimenting, experimenting, experimenting — it's all about trying different things and making adaptations," says Younger, who will have her chocolates, which include milk, dark and white varieties, available for sampling to tour visitors.
Lone Star Lake Bison Ranch
It might be the lyrics to the state song, or maybe just rareness, but Terri Gibbs says whatever the reason, her Lone Star Lake Bison Ranch has been a popular stop on the farm tour the past three years, and she just loves that so many people stop by, whatever the reason.
"I don't know what the fascination people have with buffalo. I assume it's just because of the symbolism. You know, it's kind of funny because they're surely not very friendly," she says, laughing. "They're not cute and cuddly like the alpacas and that kind of thing, but kids love them."
Visitors to the ranch will not only get to see where the buffalo happen to roam, but also a full menu for lunch, including buffalo burgers and homemade potato salad.
Gibbs says she looks forward to the tour every year because it's a chance to see faces old and new and get a lift from seeing members of the community come out and support local farms.
"I think its just so cool that ... families are spending the weekend together doing something together that's a little different and parents taking the time to help their kids reconnect with local food, local agriculture and all that good stuff," Gibbs says. "We love the farm tour."
Additional information:
Bob and Claudia Hey
168 E 1700 Rd, Baldwin City
785-594-6767
Farm products: Alpacas and products made from their fleece such as socks, gloves, hats, scarves, sweaters, etc.
Description: Located on a paved road just south of Baldwin City, Ad Astra Alpacas welcomes visitors who are interested in our herd of gentle, luxuriously fibered animals. Alpacas like children, so it is easy to have a fun, educational experience. Our goals are to raise friendly alpacas, improve on the fleece characteristics with each new generation, and provide wonderful products from the fiber we harvest each spring.
Blossom Trail Bee Ranch
Richard A. Bean
669 E 2100 Rd, Baldwin City
785-615-1548
Farm Products: Honey and honeybees, alliums, onions, garlic, leeks, apples, blackberries, free-range eggs
Description: The glass-enclosed honeybee observation unit gives everyone a chance to view honeybee activity at ground zero. See the process of honey extraction, learn about beekeeping and about how this farm integrates garden production and laying chickens.
Bluejacket Crossing Vineyard and Winery
Pep Solberg / Selvan
1969 N 1250 Rd, Eudora
785-542-1764
Farm Products: Grapes, wine
Description: We are continuing to expand our vineyard and winery to include picnic areas and live music performances. Get a behind-the-scenes look at a working vineyard and farm winery, see the wine-making process, and visit our tasting room.
Crum's Heirlooms, LLC
Deb and Jim Crum
16211 Stillwell Rd, Bonner Springs
913-422-1630
Farm Products: Heirloom tomatoes, eggplant, peppers, salad greens, root vegetables, chard, kale, herbs, catsup, bees, taco sauce.
Description: Crum's Heirlooms is committed to sustainable agriculture practices using organic methods, promoting healthy eating by providing a selection of veggies and herbs, and sharing information with the public about what we grow and how we grow it. Two to three acres of mainly terraced field is in production. We have a greenhouse, high tunnel, and root cellar.
Davenport Orchards, Vineyard and Winery
Greg Shipe and Charlee Glinka
1394 E 1900 Rd, Eudora
785-542-2278
Farm products: Wine.
Description: Our goal is to make good wine from Kansas grown fruit with minimal intervention. Davenport produces over 30 wines, all produced from fruit grown on our farm. We grow 21 different varieties of grapes on 17 acres. We also grow apples, pears, and peaches.
Roy and Marcia Henry
248 N 1700 Rd, Lecompton
785-887-6344
Farm Products: Greenhouse business, fall mums, cut flowers.
Description: We have been on our farm over 40 years. Started a greenhouse operation almost 30 years ago. We like to share the country, farm animals, and just experiencing the outdoors with our customers. We have established display gardens, a large water garden, and many beautiful plants to share. Visit the assorted farm animals, see the cut flower operation, and enjoy a hay rack ride.
Holy-Field Vineyard and Winery
Michelle Meyer, Les Meyer
18807 158th St, Basehor
913-724-9463
Farm products: Grapes and wine.
Description: Holy-Field Vineyard and Winery offers and easily accessible vineyard for walking tours and a tasting room for our wines. We hope to remind people that winemaking is an agriculture-based business and we are farmers. Holy-Field is the oldest winery in the state of Kansas and run by a father/daughter team. Kansas has a long history of growing grapes and making wine!
Bob, Joy, and Avery Lominska
1954 Union Rd, Lawrence
785-842-5697
Farm products: Fruits and vegetables, eggs.
Description: Hoyland Farm was founded in 1976 and focuses on growing vegetables and fruit using organic methods. We are founding members of the Rolling Prairie Farmers' Alliance CSA and have sold our products at the Downtown Lawrence Farmers' Market almost since the beginning. We have farm records that prove that products from our farm have been sold in Lawrence since the 19th century. Our goals are to demonstrate that food can be grown organically, to develop a local food system, to improve the health of the community, to be successful financially, and to help educate others interested in learning about this style of farming.
Joseph Lamborn
25761 151st St, Leavenworth
913-727-5666
Farm products: Pumpkins, meats, hay.
Description: Family farm with pumpkin patch. Affordable family fun in the fall. Our farm has been farmed by our family for over 135 years. Learn about pumpkins and farm animals.
Landeria Farm
Kathy Landers
11395 Gardner Rd, Olathe
785-393-6693
Farm products: Goat cheese.
Description: Landeria Farm is a Grade A goat dairy and microcreamery specializing in the production of farmstead cave-aged goat cheese. We use the milk from our own herd of dairy goats to make cheese in the old world tradition of cave aging wheels of hard-pressed cheeses for 6 to 12 months.
Glen Westervelt/Frank Male
Mike McLoud, Farm Manager
1185 N 1250 Rd, Lawrence
785-423-5861
Farm Products: Ornamental, shade, and evergreen trees; deciduous shrubs.
Description: Retail and wholesale nursery specializing in trees. We promote the value of locally grown trees and will provide education about the growing and harvesting of trees. Also will have the trebuchet out for pumpkin chunkin' and will have pumpkins out for painting.
Don and Terri Gibbs
588 N 300 Rd, Overbrook
785-594-2926
Farm products: Bison meat.
Description: Our goals are to help promote the value of small family farms, the importance of a local sustainable food system, and the health benefits that bison meat provides. Learn about the history and culture of the buffalo, let the kids feed the animals, and sample a buffalo burger and other local favorites.
Moon on the Meadow
Jill Elmers
1515 E 11th St, Lawrence
785-749-1197
Farm Products: Certified organic produce.
Description: We are a small certified organic farm in the Lawrence city limits. We are dedicated to bringing local food to local people while maintaining as sustainable an operation as possible. Sustainability is our top priority as we want to give back to the land anything that we use or borrow.
Okanis Garden at Prairie Moon Waldorf School
1853 E 1600 Rd, Lawrence
785-841-8800
Farm Products: Tomatoes, leeks, bell peppers, kale, spinach, potatoes, cucumbers, squash, gourds, long beans, basil, onions, flowers.
Description: Last year, with the help of a grant from the Elizabeth Schultz Environmental Fund, Prairie Moon Waldorf School established a market garden on the school grounds. The garden provides a vital focus for the school's Waldorf curriculum, encouraging appreciation and connection to the natural world through active participation in planting, growing, and harvesting. Students will learn about plant biology, soil science, hydrology, gardening, mathematics, geology, geography, and business. Prairie Moon is the first Kansas Green School in Douglas County and one of the first three Green Schools in the state.
John and Karen Pendleton
1446 E 1850 Rd, Lawrence
785-843-1409
Farm Products: Fall products include pumpkins, squash, gourds, dried gourds, dried flowers, and mums.
Description: This farm is a diversified family farm growing vegetables, bedding plants, cut flowers, and commodity crops. Will offer free admittance to the Butterfly Bio-Villa for farm tour visitors, arts and crafts for the kids, hayrides, and a gourd sling shot.
Rex and Shannon Rees
2476 K-4 Hwy, Topeka
785-246-3257
Farm Products: Fruits, vegetables, honey, pumpkins, and many specialty products.
Description: Our market offers the largest variety of homegrown and locally grown fruits in NE Kansas, harvesting over 60 products from April-October.  See our website or stop by our market for all that we offer! 
Screamin' Oaks
Roxane McCoy
18171 198th St, Tonganoxie
913-845-2775
Farm Products: Goat milk, cheese, soaps, ice cream, lotions, candles, garden compost, and fresh herbs.
Description: Screamin' Oaks (named for the peacocks roaming freely on the farm) features various farm animals, poultry, and reptiles. Take an educational tour of the farm, participate in the Search and Find farm game, milk a goat, taste goat milk products, see soap making demonstrations, create a craft item, slide into the sunflower seed pit for a free farm gift. Will also feature spinning demonstrations and finished wool products.
Jean Younger
972 E 750 Rd, Lawrence
785-330-3662
Farm Products: Chocolate and other confections.
Description: Our farm was a former dairy operation. Tour the 100 year old barn and watch the chocolate making demonstrations. We will also have chocolate available for sampling right out of the grinder.
Vertacnik Orchard
David and Wendy Vertacnik
1403 E 1850 Rd, Lawrence
785-842-4428
Farm Products: Apples.
Description: This farm is a small orchard of 100 apple trees. Our goals are to work the trees by implementing good cultural practices through pruning, conscientious insect control, and orchard floor management. Visitors may pick apples. Will also have apple cider available.
John, Sharon, William, and Joanna Vesecky
1814 N 600 Rd, Baldwin City
785-594-2493
Farm Products: Pasture-raised poultry, strawberries, blueberries, beef.
Description: Our farm is situated in picturesque Vinland Valley. The historic farmstead includes 100 year old burr oak trees. Our goal is to provide home-grown, healthy, high-quality produce to the public, and to provide a peaceful rural experience. Three generations of family are available to host the guests, and we will have a photo collection that shows what goes on at the farm all year long.
West Junior High School Garden
USD 497 and The Community Mercantile
2700 Harvard Rd, Lawrence
Farm Products: Variety of produce, herbs, and cut flowers.
Description: This is a 4,000 square foot garden established in 2010. Six students have been hired by The Merc to be gardeners. They are tending the garden through the summer, running a Farmers' Market on site, and supplying produce to the school's cafeteria.