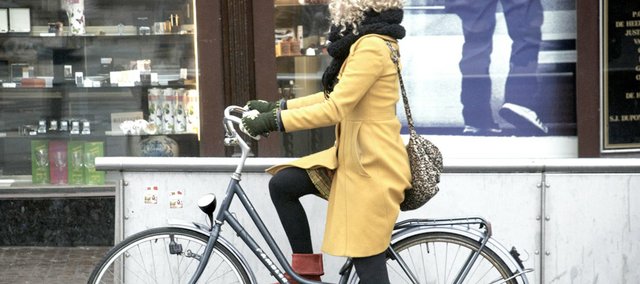 Thursday, September 30, 2010
Gary Mark Smith's love of adventure began early in life. Twice before the age of 20, the Lawrence resident and photographer was struck by lightning — events he admits pushed him toward a lifetime of no-frills travel, taking snapshots of urban life while literally living on the mean streets of cities around the world.
Recently, the globe-trotting street photographer was rewarded for his hectic lifestyle by the Eastman House International Museum of Photography and Film. The pre-eminent organization has asked Smith to contribute two of his photos to a benefit auction, its first in 32 years.
"It's a celebration of the history of photography. It's daunting to be in there," Smith says. "They called, and I didn't call back for about two weeks. I finally did and they wondered if I was right for it. I said, you don't want just anybody in there and I gave them the 'Five-minute Gary,' as I call it, about why I belong there. And I believe I belong there."
Smith's self-confidence comes from three principles inherent in all his photos that make them uniquely his. First, he's worked on a global canvas rather than in only a single city or region; second, he's aimed for a photojournalism-as-fine-art approach; and third, he's incorporated the rules of formal composition into his work — something, he says, other photographers eschew for simpler, more self-indulgent products.
The George Eastman House seems to agree with Smith's assessments on his work. According to the museum's website, "this auction effort has come to represent the standard of quality we embrace at George Eastman House, and we couldn't be more pleased."
The auction features artists from more than 20 countries and includes some of the all-time most important names in photography, including masters Ansel Adams, August Sander and Edward Weston, as well as famous Lawrence resident Gordon Parks.
Marketing himself for such major exposure does not come easily to the self-proclaimed "shy" Smith. He says he purposefully set up shop in Lawrence, in 1979, to get away from the hectic art world of a large city.
"All that meant anything to me was travel," he says. "I'm a regular Lawrence guy — I mow the grass. I was never looking for any recognition. My photographs have gotten my recognition for me. In my 32 years this is the first cocktail party I've ever been to."
Due in part to his efforts to shy away from most forms of limelight, the local community is important to Smith. He has served as the president of the Lawrence Art Guild, promoted musicians in the music scene and, over the past decade, has mentored local high school students.
Sarah Stern, a 2009 graduate from Free State High School, says Smith was very inspirational to her as an artist.
"Working with Gary was one of the best learning experiences I've definitely ever had," she says. "He taught me a lot about photography and a lot of ways to see. Now I can't walk down the street and see the same way. I got a whole new perspective on photography, outside of what I would have gotten inside the classrooms of junior high and high school."
Stern says Smith's influence on her life has gone beyond taking photos.
"Gary made me want to travel. He always says, 'Happiness is genius.' He really made that a huge part of my life. It's something I still take with me."
Smith says his role as an educator is a very significant part of his life. "Nothing enriches me more than that. I say I've had a thousand students, and that's counting when I make a two hour speech to a group of 35."
In the end, though, it all gets back to Smith's love of travel and photography.
"I've taken over three international trips per year, every year, I haven't missed one," Smith says. "That's what has drawn attention to me as an artist, is that I did it — I did it hard-core. If you look at my career, 99 percent of what I get out of it is travel. The other 1 percent is recognition. I've got a wanderlust."
Breakout:
The George Eastman House/Sotheby's History of Photography Exhibition and Benefit Auction
Live auction: 7 p.m. Oct. 4
Online auction: Sept. 27-Oct. 7
Visit auction.eastmanhouse.org to view the online auction or www.streetphoto.com for more of Gary Mark Smith's work.