Thursday, September 30, 2010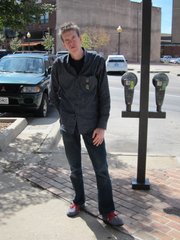 Age: A wee bit older than my whiskers.
Sign: Capricorn
Occupation: Columnist for KC Confidential at kcconfidential.com.
Hometown: Kansas City, Mo. I actually live in Prairie Village, Kan., but who wants to admit to that to someone from the Big Apple or anywhere else for that matter? And I was born in KCMO, so it's OK to lie about it, right?
How long have you been in Lawrence? I'm in Lawrence every possible minute of the day, less so at night. I get my hair cut here, buy my clothes, audio and video gear, music, party with my 13-year-old daughters, spy on local celebrities and make really strong whiskey sours for downtowners during football season.
What were you doing when you were scouted? Meandering downtown, shopping and visiting friends.

How would you describe your style? Sophisticated meets middle-age crazy.
What are your current favorite fashion trends? I like the skinny jeans and shirts at Hobbs. I buy my shoes from Auri Footwear, a small designer I stumbled onto in Laguna Beach, Calif. And truth be known, I kind of have more fun shopping with my 13-year-old daughters and women friends.
What are your least favorite fashion trends? Plunging necklines for men. I just don't have enough cleavage to go around. And what could be worse than just about anything resembling a jacket with the logo and colors of the Kansas City Chiefs on it? I'd rather live under a bridge than be caught dead wearing one.
Do you have any fashion influences? I watch what former KU basketball coach Roy Williams is wearing and then try to come as close as wearing the opposite as humanly possible. Seriously, who in tarnation dresses that guy?
Do you have any piercings or tattoos? Nope, but I'm open to suggestions.
People say I look like... Tough one. I've gotten Paul McCartney and Hugh Grant, which is not bad. I've also heard Jimmy Dean, which totally sucks … like I look like a dead guy that still makes sausage, go figure. I'm holding out for Zac Efron, but I'm not holding my breath.
Tell us a secret: I am absolutely the very worst person on earth at breaking up. Always mess it up, always. Takes me forever to break free and I keep going back for more punishment, no matter how ridiculous things get. That's the bad news. The good news is I think I've mastered the long good-bye. Oh wait, that's still the bad news. The good news is it's bound to get better, right?
More like this story on Lawrence.com