Thursday, September 30, 2010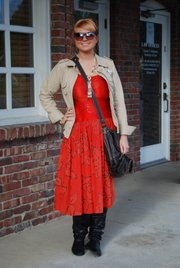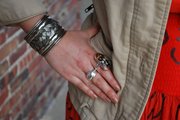 Age: 25
Sign: Pisces
Occupation: Bartender and server at Esquina, 801 Mass.
Hometown: Champaign, Ill.
How long have you been in Lawrence? Five years
What were you doing when you were scouted? Running errands and getting coffee at Z's Coffee Shop.
How would you describe your style? On some days, my style is kind of character-y or cartoon character-y, but it is always heavily influenced by Dolly Parton.
What are your current favorite fashion trends? Lots of layering for fall — layering a variety of clothing, some with oversized patterns and some more basic pieces. For men, as long as the clothes look good, have a good fit, and aren't too baggy I'm generally satisfied.
What are your least favorite fashion trends? Ugg Boots, fur and leather — they are tacky and unnecessary, and they aren't animal-friendly.
What would you like to see more of in Lawrence? More vegan breakfast options. Many restaurants have vegetarian options, but not as many offer vegan menu items. I'd also like to see more recycling centers.
What would you like to see less of in Lawrence? Less dog crap on the sidewalks! Who are these people that let their dogs crap right on the sidewalk?!
Do you have any fashion influences? "Mad Men" clothing from the '50s and '60s, Dolly Parton and vintage apparel.
Do you have any piercings or tattoos? I have two tattoos and six piercings.
People say I look like: Usually somebody they know from Kansas City. I've also been called "Bridgette" twice recently, so I must have a doppelganger around town.
Tell us a secret: I don't like vampires, "True Blood" or "Twillight."
More like this story on Lawrence.com