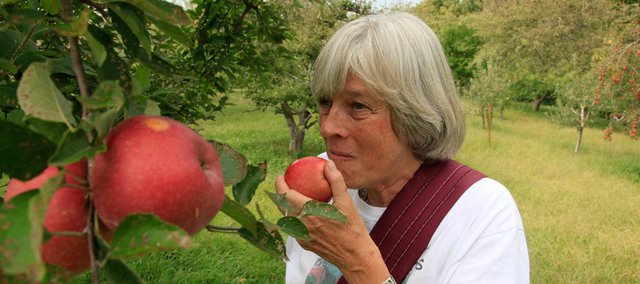 Thinking about planting fruit trees or plants this year? If visions of strawberries and juicy ripe peaches are dancing in your head, let me give you the lowdown on fruit that grows well in this area and how to successfully grow it.
Although easy-care fruit is a debatable issue, the top of my list for low-maintenance fruits include raspberries, blackberries and gooseberries. Apples, pears and strawberries have mid-range care requirements. Peaches, nectarines, plums, cherries, grapes and blueberries need the most tender, loving care of fruits commonly grown in Kansas.
Raspberries and blackberries are also known as brambles, and are more tolerant of different soil types than most other fruit. Brambles do need well-drained sites. Raspberries are available in red, black, purple, and yellow. Blackberries are classified as "trailing" or "erect" to describe their growth habit.
Brambles need a little pruning and thinning each year but little care beyond that. Timing and methods depend on the bramble variety and its respective growth habit. Red raspberries especially have different pruning requirements.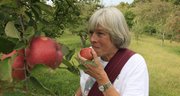 Fertilize bramble plantings minimally each year and mulch lightly after plants are established. Few insects and diseases affect raspberries and blackberries. Plantings are typically productive for eight to 10 years.
Gooseberries are lower on the popularity list but indisputedly easy to grow. The small berries are quite tart when picked green. If allowed to ripen to pink, gooseberries sweeten and make fabulous dessert ingredients. Prune bushes each year in late winter or early spring to encourage new growth. Gooseberry plants respond well to compost or organic matter applications in the fall and just a touch of fertilizer in the spring.  A gooseberry bush may produce fruit for 15 to 20 years.
Apples and pears are a little sensitive to soil conditions and are affected by several insects and diseases. Those pests are only consistently controlled through regular pesticide applications (organic or conventional pesticides could be used). Products and applications quickly add up in time and money.  If you want to grow apple trees, I recommend selecting the most disease-resistant varieties you can find. Keep trees healthy by watering and mulching as needed and fertilizing and pruning each year.
Homegrown apples from Kansas rarely look like the blemish-free, waxed fruit we are used to seeing in the grocery store. However, many apple fruit spots are superficial or can be cut from the apple prior to consumption.
Apple trees also prefer that you have two trees of different varieties because it allows the trees to cross-pollinate. Pear trees require two varieties to be present to produce fruit. Apple and pear trees are often productive for 25 to 30 years in home gardens.
Strawberries are much pickier about what soil they grow in, preferring good drainage and high percentages of organic matter. Strawberries are classified as "June-bearing" (produce in May to June) or "everbearing" (produce in May to June and again during late summer to fall).  Fruit quality and plant productivity may be compromised with everbearing strawberry varieties.
Care for strawberry plants depends on the type of plant and on the growing method. Generally, strawberry plants require irrigation, mulching, fertilization and some management for the runners produced by parent plants. Strawberry plantings are typically only fruitful for three to four years after planting. Insect and disease problems may be difficult to control.
For those on the okay-to-plant but not the easiest-to-grow list, I recommend doing some research before investing in them.  
Peaches and nectarines are susceptible to pest problems that shorten the life of the trees and can destroy fruit.
Plums are favored by an insect that bores into the fruit, making it undesirable for most people to consume.
Cherries struggle with disease, weather, and consumption by birds who always seem to know when the cherries are ripe before humans find them.
Grapes are sensitive to soil pH and are vulnerable to a common fungal disease that damages fruit as well as vines.
Finally, as much as I love blueberries, I have little desire to try to grow them. Blueberry plants are acid-loving and require a fair amount of soil preparation prior to planting. They will likely need regular applications of soil-acidifying fertilizer to stay healthy and produce fruit.
All the fruit I mentioned require long-term maintenance, most are sensitive to soil conditions, and many have at least a few pest problems. Plan ahead, have your soil tested BEFORE planting and choose pest-resistant varieties if they are available.
Douglas County residents can test up to 10 soil samples per year for free thanks to a grant from the Douglas County Conservation District. Bring samples (two cups of soil per sample) to the Douglas County Extension office at 2110 Harper St. Additional information about recommended fruit varieties and care of fruit plants is also available at the Extension office.
—Jennifer Smith is the Horticulture Extension Agent for K-State Research and Extension in Douglas County. Contact her or an Extension Master Gardener with your gardening questions at 843-7058.