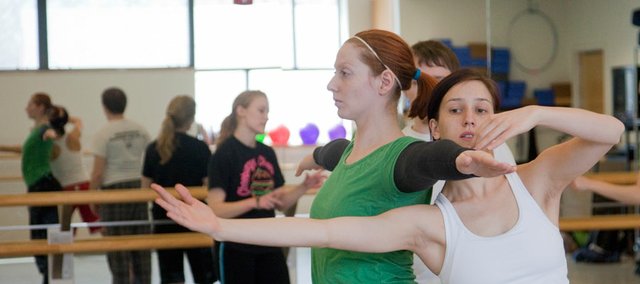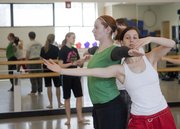 After a 24-year run of performances, the 940 Dance Company will present its final concerts at 7:30 p.m. April 14 and 16 at the Lawrence Arts Center, 940 N.H.
The show, called "Red," will consist of an hour and a half performance, with an intermission, and will feature numerous styles of performance and dance, involving a mix of many different types of musical accompaniment. Audience members are encouraged to wear red clothing to help augment the concert.
Susan Rieger, artistic director for the dance company, says the group, formerly known as the Prairie Wind Dancers, is disbanding due to financial issues within the Lawrence Arts Center. Funding for the arts has dipped, both at the state and national level, she says.
"We're not falling apart," Rieger says. "The Lawrence Arts Center has decided it can no longer support the dance company in the current situation, where school and arts funding has decreased to the point where we're not getting the bookings we used to. The (National Endowment for the Arts) funding is in jeopardy, so it's happening not only in Kansas, but on the national level too."
Rieger says, although she is saddened for the loss of the dance company, she's excited for the upcoming farewell performance. The final show is definitely more bitter than sweet for her, though.
"This is kind of our swan song. It's the final performance for the company. We're also the last professional modern dance company remaining in Kansas, so it's kind of grim times for the state."
Rieger says the show will appeal to a diverse audience. She says people may be surprised at the range of emotion that a modern dance performance can convey.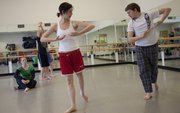 "Almost everybody appreciates some facet," she says. "It might be dancing, the physicality and athleticism of the dancing. It might be what a dance makes you think about or consider in your own life. One of the things with modern dance is kind of trying to experiment some and play. I think one of the things people think about modern dance is that it's very serious. Our company tries to address a whole range (of ideas), and have a lot of humor in the concert, too."
Dance company member Justin Hundley says the show will touch on many far-flung issues and ideas. One, for instance, is the zombification of society through prolonged television viewing. Hundley says the group looks forward to illustrating complex issues like this, and also to performing more conventional modern dance routines.
"What we try and do is, there's a lot of facial gestures and acting that goes into this," he says. "We don't actually speak, but with the movement we try and bring across ideas. For instance, how would a brainwashed TV addict move? They're going to just stare with no emotion on their faces. All of these ideas, like, 'What is this persona going to be?' are important. For other pieces, it's more like a contemporary dance that's about movement and its connection to music."
Hundley says the name of the show, "Red," was chosen for several reasons, though mainly due to society's attachment of the color to extreme emotions.
"The idea of 'Red' comes across as, 'What do you immediately think of when you think of red?' There's anger, there's passion — but we're trying to elaborate away from that, like, with the saying, 'in the red,' with our current economy. Any kind of emotion, of phrasing, that red can describe is what we're trying to tie together with the different dances."
Company member Michaela Sherman says one of the strengths of the group is the diverse education in dance among its members. She says the upcoming final show will be stronger because of both the different strengths the members bring, and also because they've grown so close working with each other.
"We're lucky that we all come from different backgrounds," Sherman says. "We've all had very unique experiences in our lives, so to all come together — it brings that eclectic vision. We all have the same passion to dance, so we can come together and perform the ideas. The ideas remain as unique as the individual. We kind of know how to pull out of each other what we need to say or express. We know our talents and our strengths and we're able to pull them out of each other."
Sherman says she's dispirited by the demise of the 940 Dance Company, not only for her own personal reasons, but because of the effect it could have on other local artists. She says she's concerned about a trickle-down effect throughout the local arts community, with other groups facing similar funding issues in the near future.
"This is a little bit heartbreaking for the entire arts community," she says, "because we integrated visual art with music. We just got done doing a lot of classes — we'd go into preschools and do workshops and travel to rural communities. There are a lot of collaborations within this arts community that can no longer directly happen."