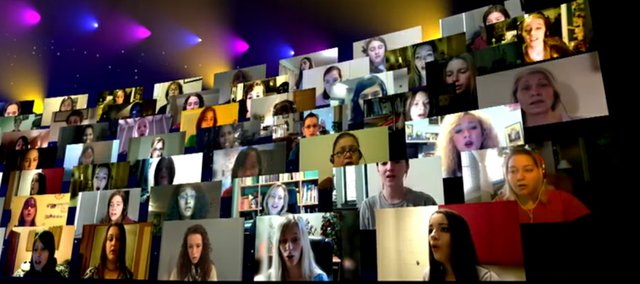 Tonight, 2,051 voices from 58 countries are getting together for a singalong like none other.
Those voices will be melded together into a the Virtual Choir 2.0 — a Web project from composer/conductor Eric Whitacre. Each singer recorded themselves singing a chosen song, "Sleep," to a Web cam while following along to a video of Whitacre conducting. Once all the individual videos were submitted, Whitacre had them all digitally combined, so that they could become one large choir singing together to the music.
It's amazing to think about on a coolness scale — so many music lovers from all over the world brought together for a single song. Even cooler?
Lawrence's own Tony Silvestri wrote the lyrics to the song they'll be singing.
"Eric Whitacre is my best friend, we've been friends for 20, 21 years," says Silvestri, who has collaborated on a handful of pieces with his friend. "I work with not only him, but with a lot of different composers all around the world sort of as a supplement to my day job of which is teaching history here at Washburn."
Silvestri is also a choir member, having submitted a video of himself singing along to the song, "Sleep," which is one of Whitacre's most successful songs. The pair wrote it in the year 2000 after a few hiccups.
"He was commissioned to do a piece using the text by Robert Frost, 'Stopping by Woods on a Snowy Evening.' And they performed the piece and he went to publish it and the Robert Frost estate denied him permission to use the poem," Silvestri recounts. "But the music that he wrote was so beautiful, so he asked me, could I please replace the lyrics with another, different poem that uses the same rhyme scheme, the same structure, some of the same vowel sounds, even the same word here and there that was painted so beautifully.
"And so I came up with a completely different text and it's that piece that has become our — his — most famous and most performed piece, and it's our most successful collaboration."
Silvestri also was the lyricist for the song used when The Virtual Choir was launched last year. That song, "Lux Aurumque," was sung by 185 singers from around the globe.
Silvestri couldn't be more happy for his friend, who has received national attention on National Public Radio and CNN for The Virtual Choir 2.0, and has even given a TED talk about it.
"I think the next phase would be that Eric would write a piece that would be premiered as a virtual choir," Silvestri says. "No one will have ever heard the music before, before the performance online, which I think is kind of cool.
Check out the video below for the finished product.
More like this story on Lawrence.com