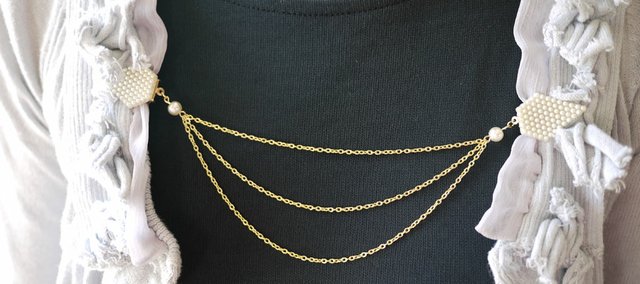 I love to check out estate sales to look for jewelry and accessories, which are usually vintage. On a recent weekend, I found a sweater clip at one of these sales. The clips were in good shape, but the chain had not aged well. I decided to get it because I had jewelry-making supplies at home, and I figured I could give it a new life. I wear a lot of sweaters because I'm always cold!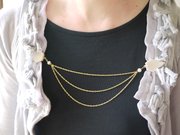 Sweater clips are meant to keep a cardigan on when a woman is wearing it over her shoulders. As far as I can tell from looking into them a bit, they were popular in the 1950s — but they are currently being talked about in the blogosphere because the counselor character on the show "Glee" has worn them. So it's a trend that's both old and new.
Supplies
2 end clips — if you don't happen to come across any, I think clip-on earrings could also work
Needlenose pliers
2 eye pins
2 beads
Ruler
Wire cutters
2 jump rings
Chain in three lengths — 5 inches, 6 inches and 7 inches
Instructions
First, I removed the old, corroded chain using the pliers.
Slide one bead onto an eye pin. These have a loop at the end so you can attach it to other pieces. Using the wire cutters, trim the straight end of the pin to 1/4-inch above the top of the bead. Using the pliers, bend the pin to one side, then curl it back the other way into a loop. It should look like the loop on the other end. Repeat with the other eye pin and bead.
Open a jump ring and slip it onto the clip — mine had a hole for it. Add one bead piece, then close the jump ring. Repeat on the other clip.
To get the lengths of chain needed, I cut apart two necklaces. Measure out the amount of chain, then use the wire cutters to cut through a link at the end of your desired length.
On one bead piece, slightly open the loop opposite the jump ring. Slide on a link from each chain, then close the loop. Repeat on the other side. Make sure to put the chains on in order so they don't cross when you wear the clip.
Now clip on your renewed sweater clip for a chic, vintage look.
— Copy editor Katie Kritikos can be reached at kkritikos@ljworld.com.
More like this story on Lawrence.com