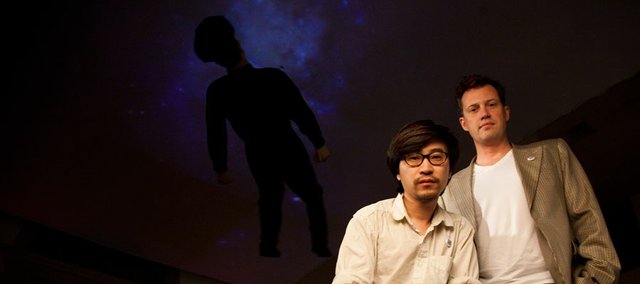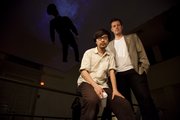 Positions of authority, both celestial and secular, are a central theme running through Chinese installation artist Jin Shan's work.
Currently set to debut his piece, "It Came From The Sky," at 6:30 p.m. today at the Spencer Museum of Art, 1301 Mississippi St., the artist says he studies the idea of political control because of his complex relationship with his own government.
"I play with a lot of styles with the theme of power," Jin says, "with humor and different emotions. It's very hard to figure out, which emotions you put in each work."
The artwork Jin is unveiling is a silicone rendering of a policeman, suspended by wires. It is lowered from the ceiling while surrounded by projected cosmic images from the Hubble Space Telescope. Jin says the piece was inspired by Christian iconography, both Chinese and Western culture and by ideas of power throughout history.
Despite his background as an artist having to maneuver through Chinese censorship, Jin says he doesn't want his work to come off as specifically anti-Communist Party or even uniquely Chinese.
"I don't want to put myself out there as someone who's against government," he says. "I don't want to be the 'communist-country artist.' Around the globe, there are so many people pressured by political powers, but I want to get beyond that. My work isn't about Chinese issues or American issues. It's about human issues — it's more philosophical."
Kris Imants Ercums, curator of global, contemporary and Asian art at the Spencer Museum of Art, says Jin's work is important and timely. He says the artist fits with the museum's goal of creating a dialogue about important international issues.
"Jin Shan combines humor with social commentary," Ercums says, "and so this is kind of a playful approach to art that allows audiences to engage with a topic that can be fairly challenging. Most of his work responds to the way that China is being thrust into a global context. This kind of dizzying transformation of Chinese society, which oftentimes brings artistic expression into direct conflict with state authority. One of the prevailing topics in his work is this critique of authority."
Ercums says "It Came From The Sky" was conceived by Jin after a visit to the museum last year. He says the artist considered the space he had to work with as well as other artwork in the museum, especially medieval Christian art. He then combined the concepts with his own familiarity with Chinese traditions.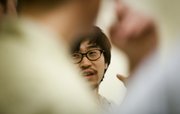 "He wanted to combine those ideas with the secular notion that comes with the embodiment, in human scale, of the policeman. It's not a critique of policemen, per se, but they serve as a representation of the power that all humans thirst for. Placing the policeman in this cosmic realm is a way to bring together very mundane, day-to-day ideas with more cosmic, macro-cosmic ideas of power."
Ercums says it's important to bring international artists into the community. He says both artists and non-artists benefit from exposure to world art and global current events.
"I think that Lawrence and Kansas City have one of the most dynamic art scenes in the country. Any way we can grow that — I call it art ecology — is good. The best way to do that is to bring all kinds of stimulus and allow all types of artists to talk to each other and exchange ideas. This is important to broader audiences, too. It helps people to think of themselves in a broader, global conscience. We can't just stay sequestered in our own region. We have to think of ourselves and how we interact with the whole world."
Saralyn Reece Hardy, Director of the Spencer Museum of Art, says the museum has a duty to the community to spur communication. She says the function of the Spencer goes beyond simply exhibiting art.
"I believe it's the role of an art museum to be one of the social and intellectual gathering places in the community and at the university. The Spencer is uniquely well suited for that — in the sense that we have these very rich collections that are the legacy of thought over time and they're here for anyone to enjoy. While they're treasures, they're treasures to share. The sharing of them, the accessibility of collections, the access that people have to the domain of ideas that surrounded them, is a very important role for an art museum of the 21st century."
Hardy says she's looking forward to the unveiling of Jin's installation piece.
"I think, in this case, there's a sense of fit with Jin Shan and the subject of his work for this particular moment in the world. I'm excited to have an artist of his ability and vision, and I'm equally honored to be presenting his work in this moment when global artistic expression needs to see the light."