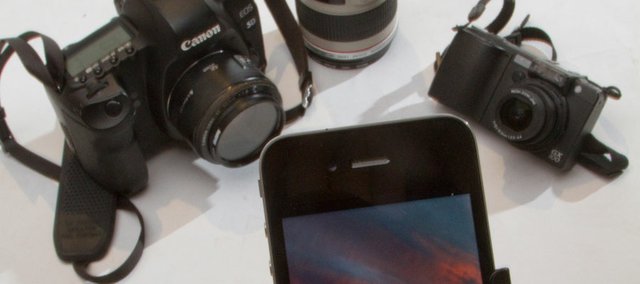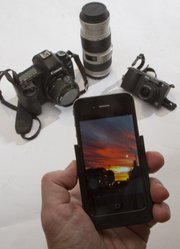 I've owned many cameras in my life and each one has filled a specific need. When I'm asked about what camera I use or would recommend, I have different answers. The camera I use for work may not be suitable for a weeklong expedition on a bicycle. And if you're planning a safari vacation, I would be wrong in recommending a pocket point-and-shoot. Because photography is both a profession and a passion for me, I'm never short of alternative cameras for various situations. But for casual shutterbugs, one camera may be the household maximum. Below, I've listed three categories of cameras, some of their pros and cons and a couple top models in each category. One may be just right for your pocketbook and camera bag.
Cell phone cameras
The quality of many cell phone cameras is now on par with consumer point-and-shoot cameras of several years ago. If your main use of photographs is posting online, a camera phone may be all you need.
Pros: Always with you. Ease of operation. Free with phone purchase.
Cons: Limited or no zoom. No exposure control. Lower quality than standalone camera. Not really suitable for prints larger than 5-by-7 inches.
The 5-megapixel iPhone 4 has excellent quality and touch-screen focus. The Sony Ericsson Satio boasts a 12.1-megapixel camera with advanced editing options.
The portable point-and-shoot
These pocket rockets pack a lot of punch in a small package. You can find useful zoom lenses on most and resolution quality can rival film. Great for backpacking, travel or tossing in a purse.
Pros: Easy to carry. Wide range of pricing. High quality and prints up to 11-by-14 inch photos. High definition video and macro capabilities.
Cons: Not great in low light. Limited wide-angle and telephoto reach. Lack of exposure control. Some shutter delay.
The diminuative Canon S95 and Panasonic Lumix LX5 get excellent reviews and have great wide-angle lens with large apertures and manual controls.
Digital single-lens reflex
These solidly built cameras with separate body and lenses enable you to match your gear to your subject matter. They are ideal for photographing everything from wide landscapes and sports action to dim concert halls.
Pros: Extensive lens choices. Good in low light. Optical viewfinder. Full manual and automatic controls.
Cons: Expensive and heavy.
The Canon EOS 5D has a full-frame sensor that captures a 60 megapixel file and shoots 1080p HD video. The Nikon D3S can capture nine frames per second and shoot in extremely low light.
— Chief photographer Mike Yoder can be reached at 832-7141.