Photo Gallery
Lawrence woman makes own bassoon, contrabassoon reeds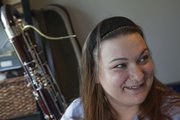 Leigh Miller Munoz, a professional bassoonist, makes her own reeds and sells them on gobassoon.com.
Leigh Miller Muñoz hunches over a table filled with supplies.
Wood, Duco cement, an X-Acto knife and crochet thread are all laid out. Metal instruments with pointed pricks sit on shelves above her. The room is 70 degrees, at precisely 30 percent humidity. Reruns play on the flatscreen television next to the table.
She's not building a model or completing a sewing project. No, she's operating her business — Muñoz makes bassoon and contrabassoon reeds.
"It's sort of a combination of chemistry, following instructions and arts and crafts," she said.
Muñoz, a professional bassoonist based in Lawrence, travels around the area and freelances her performance skills, also attending Kansas University for her doctorate of performance arts. And Muñoz, 33, teaches area students how to play bassoon. Her reed-making business sprang up after she started making reeds for students, and she sells them from www.gobassoon.com.
"It spread. It's crazy word of mouth," she said. "The business appeared out of nowhere."
Muñoz started playing bassoon in seventh grade, when her music director suggested she try it. By high school, she knew she wanted to play professionally, and auditioned for conservatories. At Oberlin College in Ohio, she was assigned to play the contrabassoon, an instrument twice the length of the 8-foot-long bassoon and much lower.
"I've had a love-hate relationship with it," she said.
Muñoz hopped all over the country while getting her education, working at a boarding school at Interlochen Center for the Arts in Michigan, getting her master's degree at Ohio University and working in Boston and earning a performance degree there before landing in Kansas. This much time spent at school is common for professional musicians.
"We invest as much time into our education as doctors do," she said.
While in school, Muñoz learned how to make the reeds that eventually would go with both her 1953 Heckel bassoon and her much newer contrabassoon. Muñoz began making reeds for students after they couldn't play well on machine-made reeds.
"It really determines how much they're going to learn," she said.
Muñoz said all bassoonists have different methods for making reeds.
She starts with raw bamboo reeds, generally from France, Germany, Argentina and, sometimes, China. An interesting point: Muñoz said good cane usually grows where good wine grapes grow.
Muñoz uses a metal instrument, called a profiler, to scrape the reed down to a certain thickness. At this time, the reed is still one flat piece, so she scrapes it from thinner in the middle to thicker at the edges. Consistency is key. "It's just like bowling," she said. "You want to keep everything the same every time."
Muñoz bends the reed in half and uses a shaper to give it the signature triangular shape. She uses an X-Acto knife to shave off excess wood, which can get a little messy. "A good vacuum is what you need," she said.
She scores the base of the reed so it can be bent more easily, and ties it around a round form. From there, it will soak in water.
Muñoz wraps the base of the reed with three 22-gauge brass wires, which won't rust in water. Then she uses color-coded crochet thread — green for Argentinean reed, purple for German — to cover the wires. She seals it with cement used in model-making. "I have to make it pretty. It's something you see every day," she said.
Then she officially makes it a reed by cutting the opening at the top, careful to make it symmetrical. She will scrape it thinner again and test the reed for intonation, resistance, smoothness of sound and other qualities.
The reeds must rest, and a typical one takes three weeks to make. Muñoz said she makes about 500 a year, 200 of which are for herself. She will only use 20, but she has to find the ones that make the best sound for auditions. "You have to have something that's so perfect," she said.
Muñoz is happy her business has taken off, and she's sent reeds as far away as Israel. But she's happy to be doing anything related to her passion.
"As long as it has to do with bassoon, I'm not going to be picky," she said.
More like this story on Lawrence.com