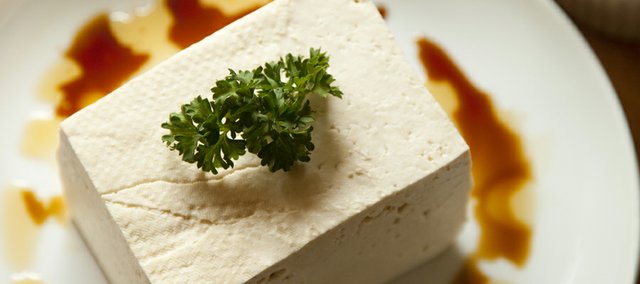 It's the blankest of the blank slates.
And maybe that's why it can seem so terrifying.
To the novice, tofu can seem too open, too ambiguous and too, well, different to use properly. And, hey, that feeling goes for people who now use it every day.
Nancy O'Connor is a 35-year vegetarian who now teaches classes on tofu at The Merc, 901 S. Iowa. Even she admits that back in the 1970s when she first started eating it, she was clueless and overwhelmed at first by the Asian protein, which is being celebrated as part of April's designation as National Soyfoods Month.
O'Connor, the director of education and outreach at The Merc, says that back when tofu wasn't nearly as ubiquitous, she would get tofu sandwiches at a restaurant run by a Malaysian couple who made their own bean curd. The couple was so excited someone was eating the tofu that they'd send pounds of it home with O'Connor, who'd eventually throw it away because she didn't know what to do with it.
"They just gave us tofu until, finally, out of guilt, we used it," she says. "So, I always tell people if they've thrown away tofu, they're at least starting to use it. Because sometimes just getting it into your house and thinking about it is the first step. And it's not a failure if you've had a failure with tofu. It's just a step toward success."
Other tips for tofu success?
Remove the water. The first rule of tofu: get rid of the liquid.
"The first thing you do is knock the moisture out," says Dave Millstein, operating partner at Lawrence's Central Soyfoods, which produces about 100,000 pounds of tofu a year. "If you are baking it, it's not even that critical to do that, because the moisture just gets evaporated out of it from the heat. In frying, it's better to get the moisture out."
To do this, there are two methods. Either press the tofu with a towel and something heavy (a large cookbook, perhaps?) for 10 to 30 minutes, or slice it and prebake it in a medium oven to dry it out. Both methods will spare you the heartache of a watery tofu stir-fry.
Pay attention to type. There are generally two types of tofu: regular and silken. Regular is the extra-firm tofu like Central Soy's product. It's a block that can be sliced up and hold its shape. Silken tofu, on the other hand is very soft and is best used whipped in smoothies or desserts — such as puddings or pies.
"When you're purchasing tofu, you want to think about what you're going to do with it," O'Connor says. "If you're going to mash it, then it can be soft. But if you want to stir-fry, you want to look for (firm) tofu and just feel the package — is it firm, does it look like a real solid cake."
Preparation possibilities. As mentioned above, tofu can be sliced and baked; pressed, sliced and stir-fried; mashed into an "egg salad" type consistency or whipped into something creamy. Like meat, it also can be marinated before any preparation to add flavor or you can just put a sauce or rub on it later. Check out some examples in the recipes below.
Store it properly. If you don't use a whole block of tofu, you can store it. Millstein recommends submerging leftover tofu in a water and keeping the tofu and the water in a covered container in the fridge. If you replace the water daily, the tofu will last for at least five days. Millstein says you can also freeze tofu, though previously frozen tofu does have a bit of a different texture.
"When you freeze it, defrost it, and drive the moisture out of it, it is really a sponge. So if you're going to stir-fry with frozen tofu, it'll suck the oil right off the pan. It opens it up at the same time that it toughens it," says Millstein, a vegetarian since 1970. "It adds, and I hate this metaphor, though I use it all the time, a meatier texture."
Don't forget the blank slate analogy. O'Connor says that if you think of tofu as an ingredient rather than an end product, you've started to come to an understanding of the food. Millstein agrees.
"Tofu is really easy to master. Because it's a medium that carries all flavors, it's a protein that carries all flavors," he says. "It's a blank slate, much like meat is a blank slate. I can't remember what the stuff tastes like, but I always thought it tasted like ketchup."
Recipes
Orange Ginger Baked Tofu
14 ounces extra firm tofu, drained and pressed
Marinade:
2 tablespoons grated ginger
3 cloves garlic, minced
2 teaspoons finely grated orange zest
1/4 cup orange juice (fresh is preferred, you can use the juice of the orange that you zest)
1/4 cup dry white wine
1/4 cup pure maple syrup
4 teaspoons soy sauce
2 teaspoons vegetable oil
Preheat oven to 375 degrees.
Combine all ingredient for the marinade in a small bowl and whisk vigorously.
Cut the tofu into 8 slices crosswise. Pour 1/2 marinade into the baking dish and dredge tofu slices. Pour the other half of marinade over the tofu. Let sit 10 minutes.
Cover baking dish with aluminum foil. Bake for 20 minutes. Remove from over and flip pieces over. Cook 15 more minutes uncovered. To give the tofu more chewiness, place in the broiler for 2 minutes on each side.
Serve with steamed or roasted veggies and basamati rice.
Tip: To make the tofu even more chewy, freeze the tofu the night before and let it thaw all day in the fridge, then wrap it in a kitchen towel and press it under the weight of a heavy object for an hour, turning occasionally.
— Recipe from www.theppk.com.
Scrambled Tofu
1 pound extra firm tofu, drained and pressed
1 tablespoon olive oil
1 medium chopped white onion (about a cup)
2 cups cremini mushrooms, thinly sliced
2-3 cloves garlic, minced
1/4 cup nutritional yeast
Juice of 1/2 a lime
1 carrot (optional)
Spice blend
2 teaspoons cumin
1 teaspoon thyme, crushed with your fingers
1 teaspoon paprika
1/2 teaspoon turmeric
1 teaspoon salt
Heat oil in skillet over medium-high. Sauté onions 3 minutes, until softened. Add mushrooms, sauté 5 minutes more. Add garlic, sauté 2 minutes more. Add spice blend and mix it up for 15 seconds or so. Add 1/4 cup water and deglaze the pan, scraping the bottom to get all the garlic and spices.
Crumble in tofu and mix well. Don't crush the tofu, just kind of lift it and mix it around. You want it to remain chunky. Let cook for about 15 minutes, stirring occasionally and adding splashes of water if necessary to keep it from sticking too much. Lower the heat a bit if you find that it is sticking. Add lime juice. Add nutritional yeast and mix it up. If it seems too dry add splashes of water. The moistness really depends on how much water the tofu was retaining before you added it.
Grate the carrot into it and fold. Serve with guacamole and salsa and potatoes and toast. Serves 4.
— Recipe from www.theppk.com.
Puttanesca Tofu Scramble
2 tablespoons olive oil
6-8 cloves garlic thinly sliced
1/2 teaspoon crushed red pepper flakes
1 pound extra firm tofu, diced
4 roma tomatoes, diced
2 tablespoons fresh thyme
2 tablespoons fresh oregano
1/2 cup mixed olives, roughly chopped
1 tablespoons capers
1/4 teaspoon salt, or to taste
Preheat a large heavy bottomed pan over medium heat. Sauté the garlic in the olive oil until lightly browned, but be careful not to burn. Three minutes ought to do it. Add the red pepper flakes and the tofu and sauté for about 10 minutes, until tofu is browned. Add a little extra oil if necessary.
Mix in tomatoes, thyme, oregano and oregano and cook for about 5 minute, until tomatoes are a bit broken down but still whole. Add olives, capers and salt to taste. Cook just until heated through.
— Recipe from www.theppk.com.
Pad Thai Tofu
8 ounces 1/4-inch wide dried rice noodles
3 tablespoons reduced-sodium soy sauce
1 tablespoon lemon juice
1/2 to 1 tablespoon agave nectar
1/4 to 1/2 teaspoon red pepper flakes (optional)
2 tablespoons peanut oil
2 tablespoons finely chopped garlic
8 ounces Asian-style baked tofu, cut into 1/4-inch slices
4 green onions, thickly sliced
1 cup mung bean sprouts
1/2 cup chopped cilantro
1/2 cup finely chopped dry-roasted peanuts
1 lemon, cut into wedges
Place rice noodles in a bowl and add enough cold water to cover. Soak for 45 minutes, then drain. Bring a large pot of water to a boil. Add soaked noodles and cook until just tender, about 1 minute. Drain well and set aside.
In a small bowl, combine soy sauce, lemon juice, agave nectar and red pepper flakes, if using. Set aside.
In a large skillet, heat oil over medium-high heat. Add garlic and cook until fragrant, about 30 seconds. Add tofu and green onions, and cook for 3 minutes, or until green onions are tender and bright green.
Add noodles, bean sprouts and soy sauce mixture to skillet and gently toss to combine. Spoon into a serving bowl and sprinkle with cilantro and peanuts. Garnish with lemon wedges and serve.
— Recipe from www.wholefoodsmarket.com.
Thai Tofu Crunch
1 (3-ounce) package uncooked all-natural ramen noodles
4 to 6 tablespoons prepared peanut sauce
1 (6-ounce) package cooked tofu (any flavor), cut into small cubes
1/2 small cucumber, peeled, halved lengthwise and thinly sliced
1/2 medium carrot, thinly sliced
1/2 cup frozen small broccoli florets, thawed
Crumble the ramen noodles into a medium bowl; save ramen seasoning packet for another use. Add peanut sauce and stir to coat well. Add tofu, cucumbers, carrots and broccoli and toss together gently. Cover and refrigerate for a few hours before serving, or transfer to plastic containers and pack in lunches. The noodles will soften somewhat as they soak up the sauce. Keep cold until ready to serve.
— Recipe from www.wholefoodsmarket.com.
Cast Iron Stir-Fry with Avocado, Basil and Peanuts
Sauce:
2 tablespoons hoison sauce
2 tablespoons mirin
1 tablespoon plus 1 teaspoon soy sauce (or gluten-free tamari)
1 tablespoon agave syrup
2 tablespoons water
For the stir-fry:
Peanut oil (in a spray bottle if you've got it)
14 ounces tofu, cubed (press it if you have the time, otherwise just blot with a paper towel to remove moisture)
Salt
Fresh black pepper
1 pound broccoli, cut into florets, stems sliced 1/4 inch thick
1 small red onion, sliced into half moons
1 bell pepper (red, yellow or orange), sliced 1/4 inch thick
2 teaspoons fresh minced ginger
4 cloves garlic, minced
1 teaspoon crushed red pepper (use half of that if you're a spice wimp)
To garnish:
Avocado, diced
Roasted salted peanuts
2 big handfuls fresh basil leaves, chiffonade (or thinly sliced)
Preheat the cast iron over high heat. On my stove, I bring it up to about 8, but stovetops vary. In the meantime, mix together the sauce ingredients and set aside.
Have at the ready a baking pan or mixing bowl to place the ingredients as they finish cooking. I like to use a 9x13 pan so that there's plenty of room and things aren't sitting on top of each other and steaming.
Once pan is good and hot, apply a thin layer of olive oil. Add the cubed tofu and sprinkle with a pinch of salt and fresh black pepper. The ingredients should immediately sizzle when they hot the pan, otherwise, turn the heat up. Cook for about 7 minutes, tossing often and spraying with oil as necessary, until it's nicely browned.
All sides don't have to be evenly browned, just as long as a few of them are, you're good to go.
Transfer tofu to the baking pan or bowl, and proceed with the broccoli. Apply a thin layer of oil, toss in broccoli, add a pinch of salt and fresh black pepper. Cook until broccoli is charred and bright green, about 5 minutes. Cover the pan between tosses, so that it cooks faster. Transfer to the pan with the tofu.
Now proceed with the onion and peppers. Apply a thin layer of oil, and toss in the onions and peppers. Sprinkle with a pinch of salt and fresh black pepper. Cook for about 3 minutes, it should be charred but still crisp. Transfer to the pan with the tofu. Now we'll finish it off with the sauce.
Add the garlic, ginger and red pepper flakes to the cast iron pan and drizzle with a little oil and sauté until fragrant (about a minute) being careful not to burn. Add the sauce and mix together until heated through and bubbly, about 2 minutes.
Now, add back all the veggies and the tofu and toss to coat. Taste for salt and seasoning.
Serve over quinoa or brown rice, top with avocado, peanut and basil and serve hot.
— Recipe from www.theppk.com.
More like this story on Lawrence.com