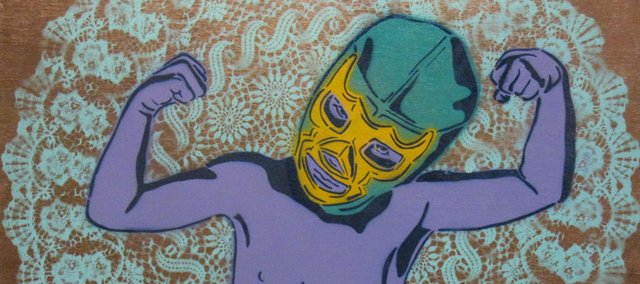 Wednesday, April 27, 2011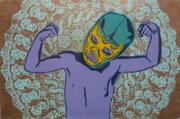 Final Friday always boasts some unique events, but there's something extra special planned for April. For the first time in the downtown art walk's history we'll see an artist exchange, as more than 30 artists from San Antonio bring pieces to the Lawrence Arts Center, 940 Mass., for an exhibit called "The New Old San Antonio: Tales From Little Big Town."
"It's kind of a conversation between two cities, between two organizations, between two artists, if you want to put it that way," says Darin M. White, exhibit coordinator and member of Lawrence art collective b.a.l.m. (beauty, art and life movement).
White, and b.a.l.m. began working with San Antonio artists in 2009 as part of "The White Show." Rex Hausmann of the San Antonio Texas Studio Program and Hausmann Millworks: A Creative Community was involved in the show, having a piece assembled in his absence and then flying in for the evening to do an installation and performance piece of his own. Hausmann loved the show and said he wanted to see it San Antonio sometime soon.
In 2010, b.a.l.m. and White did just that. "The White Show" opened March 6 at Hausmann Millworks. "The New Old San Antonio: Tales From Little Big Town" is the San Antonio arts community's response to "The White Show."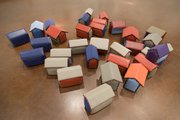 The exhibit, which opens at 5 p.m. Friday and is free to the public, features art from a variety of media and artists from different stages in their career. White says that cultural identity plays a role either directly or indirectly in many of the pieces on display simply because of San Antonio's proximity to the Mexican border and the relationship between that proximity and the immigration issue.
"A lot of pieces in the show that I've curated, there's a lot of linear striped pieces, and that references the serapes. There's this linear stripe to the serapes most of the time, and I kind of picked up on that in the paintings. I have a lot of striped paintings in the show and that's just referencing, again, that regional-cultural experience."
As part of the event, b.a.l.m. chartered a bus from San Antonio to bring nearly all of the participating exhibit artists as well as press, buyers and enthusiasts to Friday's event at the arts center. In addition to the main exhibit on the 29th, visiting artist Jimmy Kuehnle has a performance piece, "Make It Look Rich," planned to coincide with the exhibit. Beginning at the Spencer Museum of Art, 1301 Miss., Kuehnle will wear a large inflatable suit and make his way down the hill and through the neighborhoods before reaching downtown and eventually the arts center, comically interacting with his environment along the way.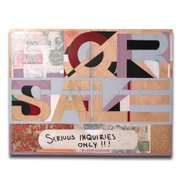 Spencer Museum of Art director Saralyn Reece Hardy will host a discussion panel featuring the artists from Contemporary Art Month in San Antonio. The artists include White, Hausmann, Shannon White and Linnea Gabriella Spransy, and they will discuss their work in "The Beautiful Life: Looking at Life and Perspectives on Creativity, Sideways." That discussion begins at 7 p.m. at the Hobbs Taylor Lofts, Eighth and New Hampshire streets.
White hopes that this series of events is part of a continuing dialogue between the cities that will influence and better the communities of both.
"The idea is to make Lawrence a destination location for art. It's a big goal, and it takes a lot to make that happen," he says. "The short term (goal) is exposing Lawrence people to art that they wouldn't normally see in this area."