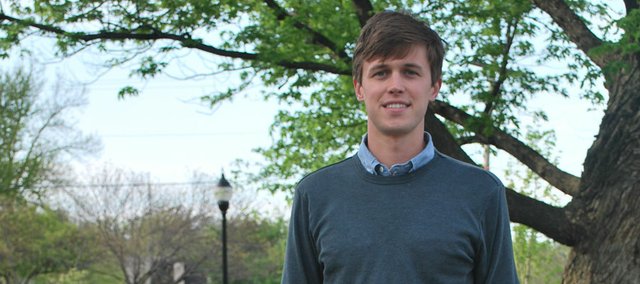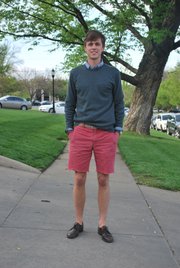 Name: George Hart
Age: 22
Sign: Leo
Relationship Status: In one.
Hometown: Kansas City, Kan.
Time in Lawrence: Four years
Occupation: Digital Media & Marketing assistant at the Lied Center
What were you doing when scouted? Heading back from campus to meet my girlfriend.
How would you describe your style? A conservative, shy Kansan trying to channel his inner Ziggy Stardust. Haha.
What are your current favorite fashion trends? The creativity and inspiration spawned by street-style photography and style blogs.
What are your least favorite fashion trends? It's on its way out, but certainly the large, neon-framed shades.
What would you like to see more of in Lawrence? "Lord of the Rings"-fantasy-kid types.
What would you like to see less of in Lawrence? Narrow mindedness — more open-minded mentalities.
Do you have any piercings or tattoos? Sadly, no tats or piercings.
Do you have any fashion influences? Civil War-era gents and the amphetamine-abusing Bob Dylan of the mid-'60s.
People say I look like... Not really sure. I don't get told that by anyone very often.
Tell us a secret: I'm a sucker for '80s and '90s R&B.;